The spate of accidents at construction sites, including the tragic incidents in Hulu Langat and Gombak, highlight the need for industry players to put safety as a top priority.
Time and again CIDB has reminded contractors to put safety first in their construction projects in light of the number of deaths happening at construction sites nationwide including two incidences in Hulu Langat and Gombak last year. The two incidents resulted in the deaths of three workers as well as three injured workers.
The two contractors involved were recently fined a combined total of RM250,000 for failing to ensure safety on construction worksites, which resulted in the death of workers on-site in Hulu Langat and Gombak, respectively. The two incidents which were found to be in breach of Section 34D(1) of the Construction Industry Development Board Act (Act 520).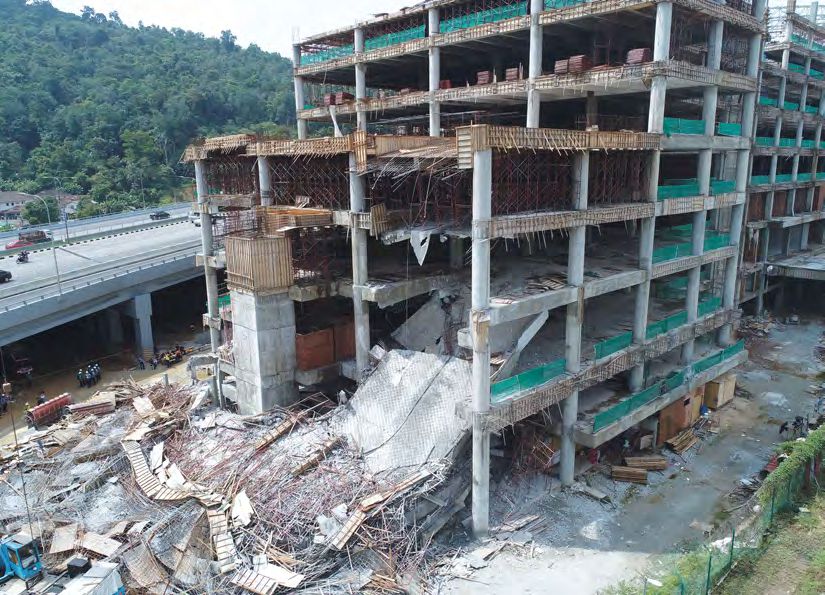 Serving Swift Justice
CIDB viewed these incidents seriously and was swift in taking action against the errant contractors. Both incidents were investigated by CIDB Selangor Investigating Officer, En Mohd Shahrir Samad and CIDB's prosecution team was led by Tn Hj Abdul Razak Husin.
"It is the duty of contractors to ensure that construction works are carried out in such a way that does not create a risk of injury to any person. As such, contractors must take responsibility to ensure the building and construction works are safe and structurally sound, whether during or after construction works. These two cases serve as a grave reminder to construction industry players on the urgent need to embrace and adopt a safety-first culture in the sector. Furthermore, it is only with a 'first-world' mindset that the Malaysian construction industry can progress and be on par with global industry players," says Datuk Ir. Ahmad 'Asri Bin Abdul Hamid, Chief Executive of CIDB Malaysia.
First-time visitors will marvel at the triple volume lobbies, book-matched marble cladding wall with polished marble imported from Italy and Turkey, as well as the fantastic 360-degree views.
"However, once they get past that initial awe, they will see that it all makes sense," he says. From the centre core service corridor where occupants access all common area services without going through narrow passages, the acoustically treated ceiling boards to the wudhu facilities at every shared washroom, all of these features embody the "going further" philosophy that Mulia implements.
"It is not just the grandeur of the building; it is an intuitive feel that one doesn't just see. The spaces may inspire a sense of wonder, but this soon settles into a comfortable feeling of 'right' and 'belonging'," Moghaddasi elaborates. Exchange 106 boasts of a variety of amenities that include two retail and F&B floors, a 5-star hotel drop-off and triple volume main lobby, banking hall, sky lobby at level 57, and 2,200 parking bays over six basement parking levels and two VIP levels. The building will also be linked to the TRX MRT Underground Station and the upcoming Sungai Buloh-Serdang-Putrajaya Line.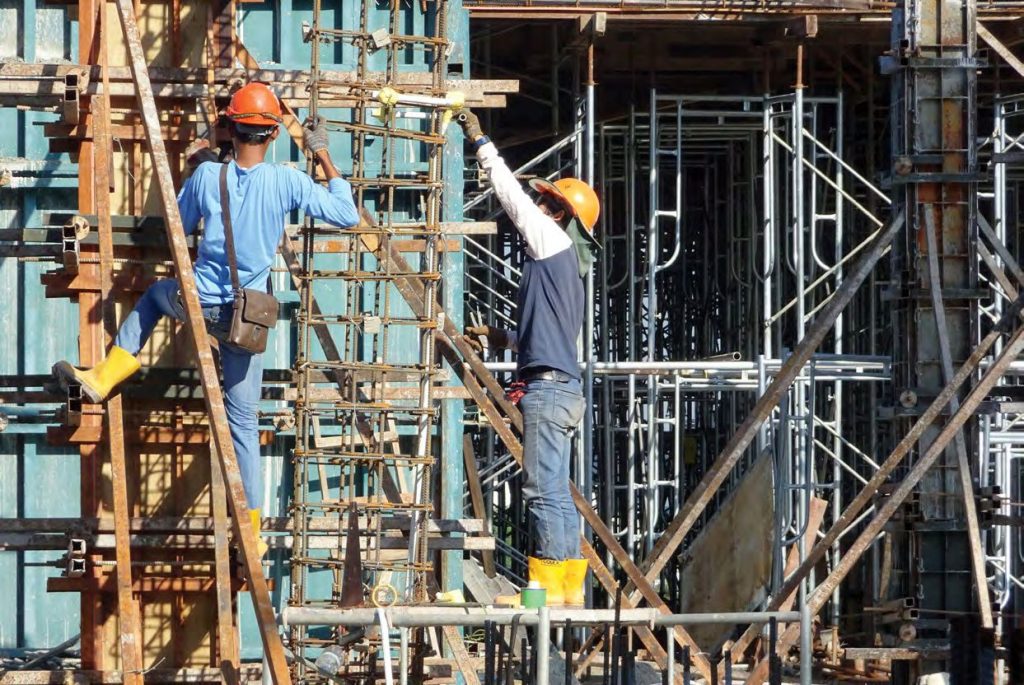 On 1 November, Landasan Kapital (M) Sdn Bhd, contractor for the Pusat Terminal Pengangkutan Bersepadu Sektor (ITT-T) construction project near the Gombak LRT Terminal was fined RM 200,000 by Judge Puan Syafeera Mohd Said of the Selayang Sessions Court. In an incident which occurred at about 12.45 am on 23 May last year, two Indonesian workers were killed, and three other workers were injured as a result.
Investigations found that the building's falsework was unable to carry the weight of concrete used. The scaffoldings used to support formwork and beam of the structure were unsuitable for the project, causing the collapse of a ramp from the building's fifth level to the lower levels.
In a separate case, Hepta Innovations Sdn Bhd, main contractor for the Projek Pembinaan Kilang Berkembar Atas Pt 60093 & 60094, Jln KBP 4, Kwsn Perindustrian Kampung Baru Balakong, Pekan Cheras Daerah Hulu Langat, was fined RM 50,000 on 30 September by Judge Tuan Mohd Kafli Bin Che Ali of the Kajang Sessions Court. On 28 January 2019, a collapse during construction had resulted in the death of a worker.
Hepta Innovations was found guilty of appointing a sub-contractor that was not registered with CIDB to conduct construction works, and for appointing a site supervisor that had not been certified by the Board of Engineers Malaysia. Construction work was done without proper supervision and approvals for the project. The cause of the collapse was due to overloading.
"In recent years, the industry has seen a troubling increase in construction deaths despite the targeted reduction in the 2016-2020 Transformation Plan (CITP). It shows that the industry still has a great deal to do to instill a culture of safety in construction sites," said Dato' Ir. Ahmad' Asri.
According to section 34B(1)(c) of the CIDB Act, contractors are responsible for ensuring the safety of the building and construction works, both during and after the construction phase. Meanwhile, Section 34D(1) of the CIDB Act (Act 520), states that any contractor who breaches his duty under paragraph 34B(1)(c), and which breach results in death, shall be guilty of an offence and shall, on conviction, be liable to a fine not exceeding RM500,000 or to imprisonment for a term not exceeding two years or to both.
CIDB's Commitment To Enforcement
"As part of CIDB's efforts to ensure contractors and site managers fulfil their responsibility to have sufficient safety measures for construction work, CIDB conducts routine Act 520 enforcement inspections across the nation," said Datuk 'Asri.
Previously, Tuck Sin Engineering & Construction Sdn Bhd, a contractor for the KL Eco City Link Bridge project was fined RM250,000 for breaching Section 34D(1) of the CIDB Act. In the incident, a worker died as a result of the collapsed pedestrian bridge. Meanwhile, Justra Sdn Bhd, a contractor for a Mydin hypermarket project in Alor Gajah was fined RM100,000 by the Sessions Court for the offence of failing to ensure safety during construction; causing the death of three foreign workers in June 2014.
In 2018, CIDB had conducted a total of 3,401 construction site/ premise inspections, 798 construction material inspections, and opened 1,068 investigation papers. Last year, a total of 1,053 compounds were issued to 298 companies and 755 construction personnel for various offences, totalling RM 2.8 million.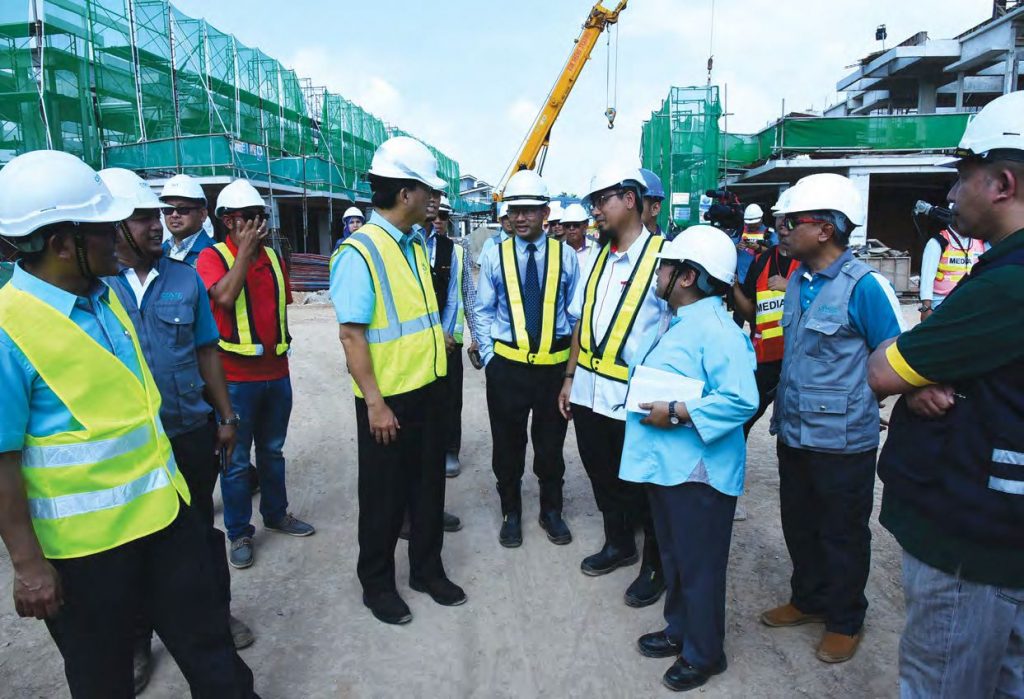 Safety Is Everyone's Responsibility
Datuk 'Asri commended the Department of Occupational Safety and Health (DOSH) for setting the guideline that all parties involved in the construction industry are responsible in the event of an accident at construction sites. "Currently, only a contractor is responsible when accidents occur at the worksite. With this new set of guidelines, which will be presented to the Parliament this year, the owners, developers, consultants, designers as well as the contractors will be held responsible. So owners will think twice before cutting costs at the expense of quality and safety."
"Further, making the Guidelines on Occupational Safety and Health in Construction Industry (Management) or OSHCIM mandatory will go a long way to ensure the safety of workers. It will be a gamechanger indeed," he added.
Datuk' Asri said OSHCIM came about when DOSH made several changes to the UK's Construction (Design and Management) Regulations (CDM) to make them appropriate for use in Malaysia. He said that the CDM Regulations proved effective in reducing construction accidents in England.
Aimed at ensuring proper consideration of health and safety issues during the implementation of a project, the OSHCIM Guidelines will lead to reducing the risk of harm to construction workers.
"Under the OSHCIM Guidelines, the developer must guarantee that the right and qualified designers are hired. The developer must also allocate sufficient funding for safe construction works. Additionally, the designer must take into account the safe construction of a building or project during the design phase. As for the contractor, the onus is on them to ensure that the workplace is safe, and that the workers are properly trained to safely carry out their tasks. At all times, workers must put on their personal protective equipment," Datuk 'Asri stated.