Industrialised Building System (IBS)
A system or method of building construction in which the components are produced in controlled conditions (in a factory or on a construction site), transported and installed during construction with the minimal use of workers on site.
Construction Labor Reduction
Systematic Installation Mechanisms Can Reduce Labor Utilisation on Construction Sites
Productivity
The Use Of Pre-Fabrication Components makes Easy And Fast Component Installation Process
Product Safety & Quality
Production of Products/Components Through Processes and Controlled Operating Procedures in the Achievement of Set Quality
Reduction of Construction Material Waste
Effective Cost
Time
List of IBS Manufacturers that have undergone the IBS Manufacturer & Product Assessment & Certification (IMPACT) process.
IMPACT is an assessment to guarantee the quality of products and components including the complete process cycle which is Verification, Validation, Testing & Certification as stipulated in the Construction Industry Standard (CIS:24) which serves as a guide to monitor and evaluate product quality and obtain certification that meets the testing standard.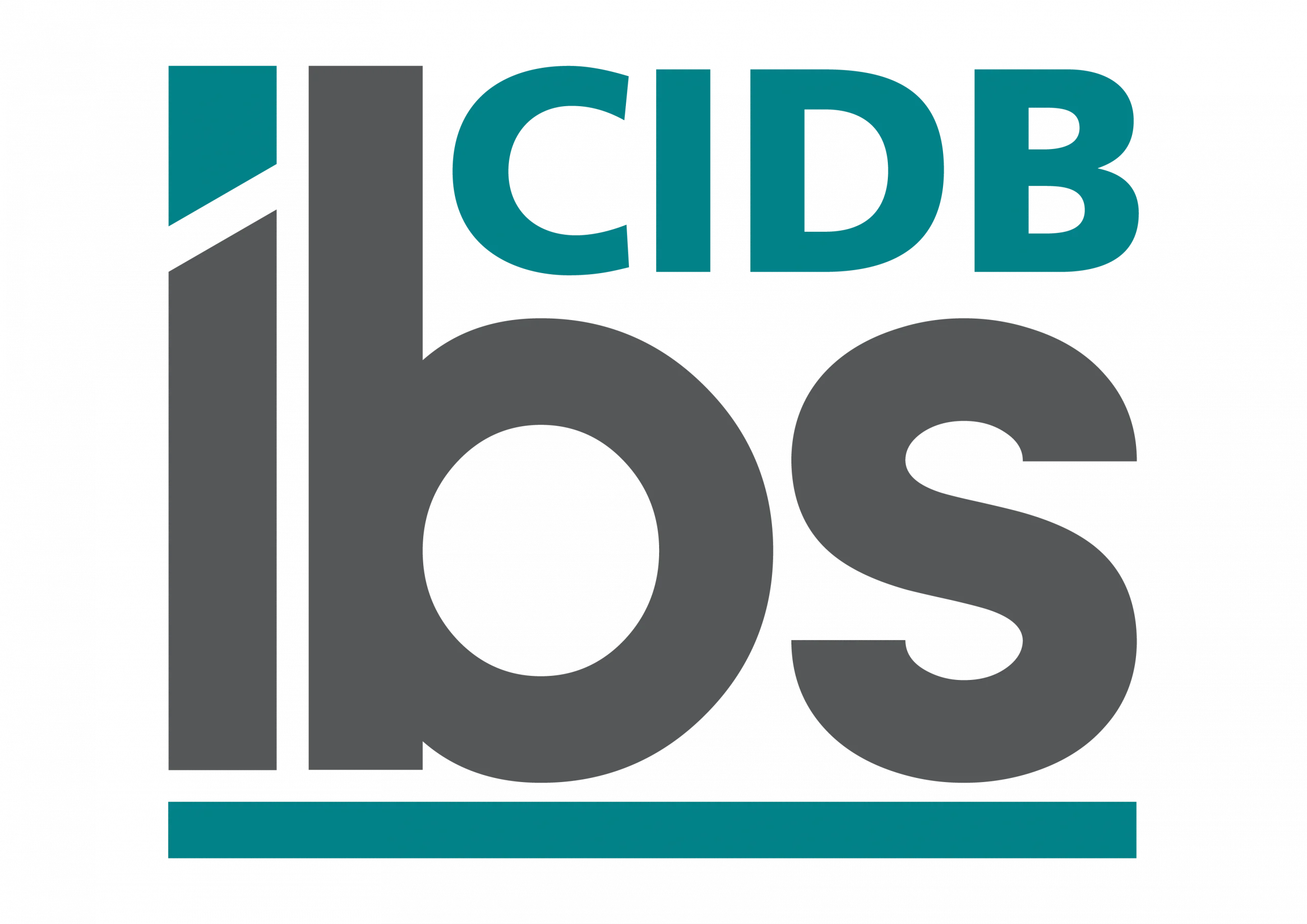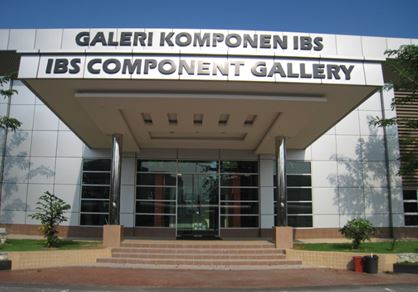 The gallery showcases the flexibility of IBS construction, using IBS for regenerating existing buildings, as well as creating new ones.
It also highlights the full scale of IBS components currently available in the Malaysian market as well as serving as an IBS reference centre for designers, contractors and the general public.
In addition, the IBS score factor for each of the components and examples of IBS score calculation are also shown here. The gallery is divided into six main zones - Blockwork system, Steel-framing syatem, Precast concrete system, Formwork system, Timber framing system and other prefabricated construction components.
Opened its doors in 2008, the gallery houses various information on IBS in the form of educational posters, printed publications, multimedia publications, models of IBS Buildings and samples of products.
The gallery is divided into six main sections -Background, IBS Technology, IBS Case Studies, IBS Policies and Incentives, IBS Centre and IBS Timeline.
The IBS Show Village presents three hybrid IBS dwelling structures that include a bungalow, an apartment and a unit of terrace house. The three buildings were originally designed and constructed based on Open Building principles and IBS components. The structures were retained at the grounds of IBS Centre and established as the IBS Show Village Units for promotion and training purposes.
Bungalow unit - uses lightweight and interlocking precast concrete blocks.
Terrace house unit – features formworks systems as main structural IBS construction solutions.
Apartment unit – details precast concrete load bearing walls and extensively used beams and columns.
Other IBS components that were used in the construction of the dwelling structures include steel & timber roof trusses, drywalls and bathroom pod.
All IBS showhouse units achieved high IBS scores.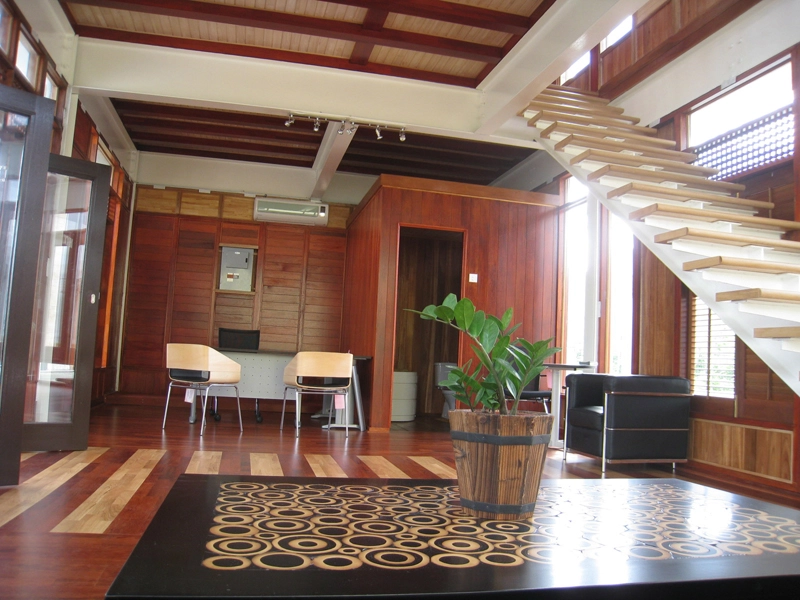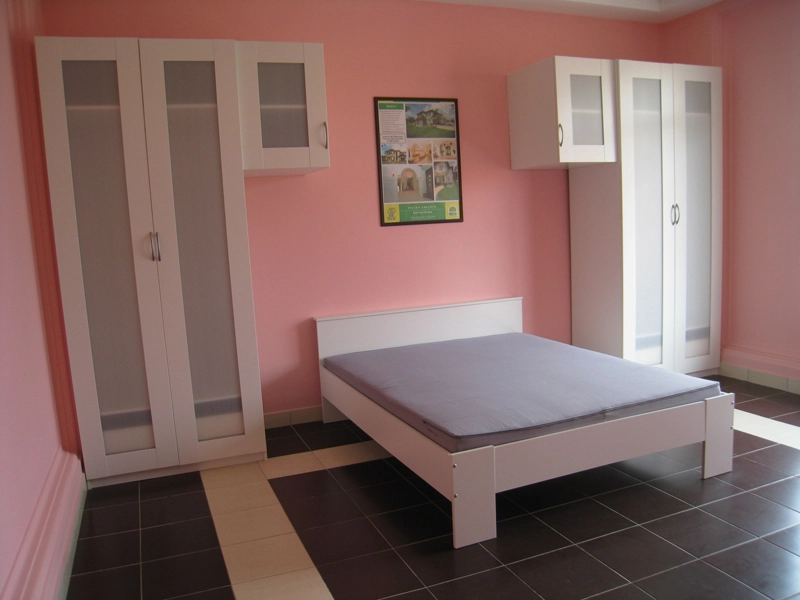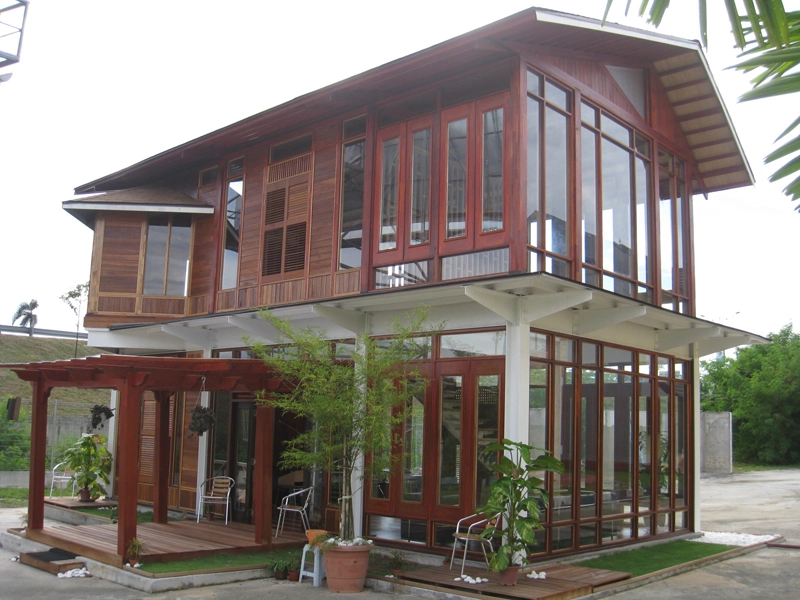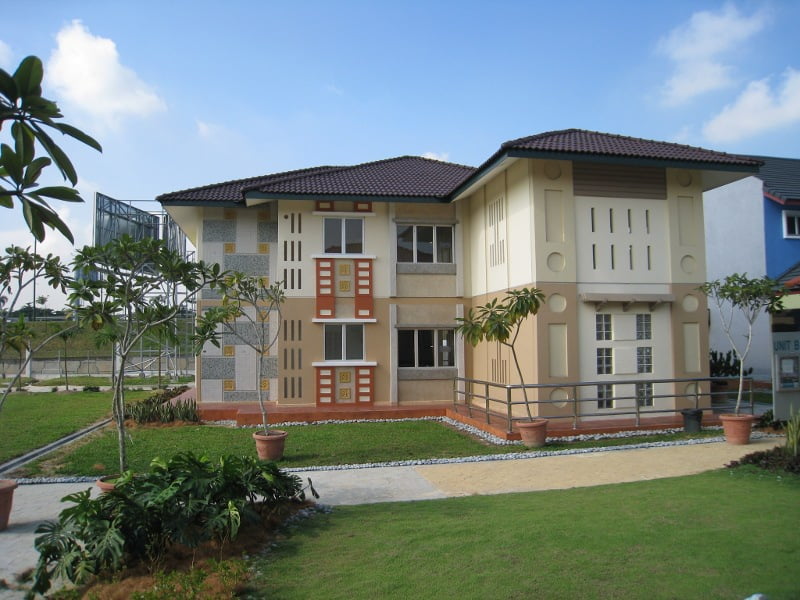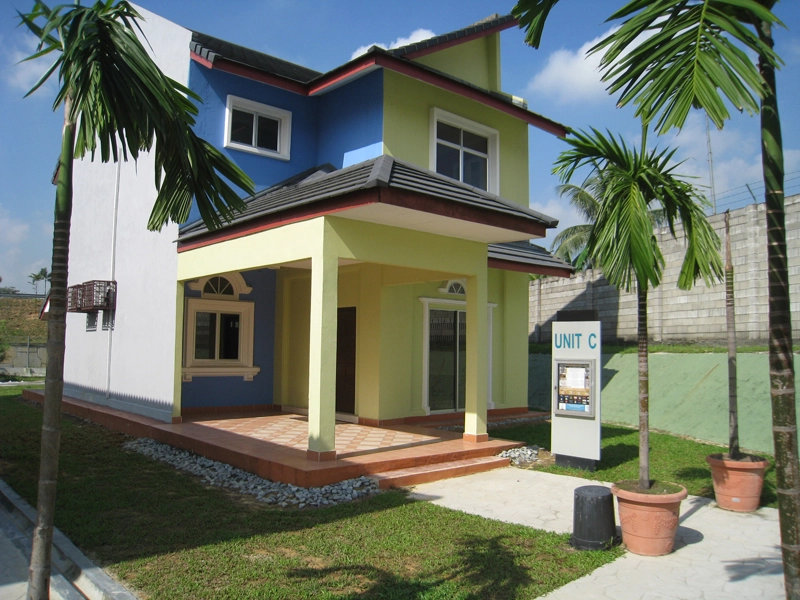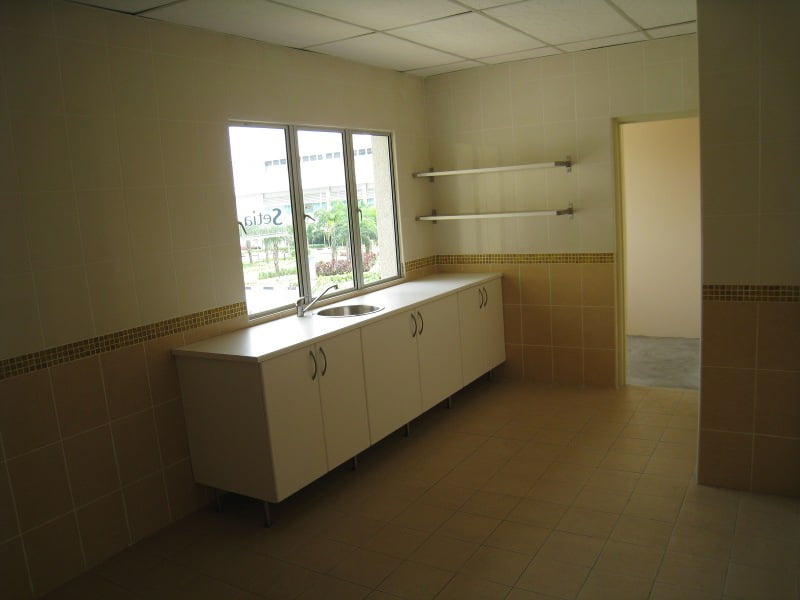 IBS Testing Facilities (Makmal Kerja Raya Malaysia)
This is a full scale heavy structural engineering laboratory. Makmal Kerja Raya Malaysia is managed by Construction Research Institute of Malaysia (CREAM), the research and development (R&D) arm of CIDB. Makmal Kerja Raya Malaysia is fully equipped with the state-of-the-art testing facilities and equipments to support the R&D works related to IBS components and building materials.
Simultaneously, it also provides testing facilities for full scale structural component which are not available elsewhere. In addition to being a research testing laboratory, it also functions as an accreditation agency, which help serve the construction industry by providing calibration and specialised testing services.
The main facilities of Makmal Kerja Raya include 15m wide by 26m long reaction floor, 6m long by 6m high reaction wall, 2000kN universal testing machine, 200kN dynamic testing machine, static actuators with a maximum capacity of 2000kN, 300kN dynamic actuator and concrete compression machine with a maximim capacity of 5000kN.
The facilities enables structural tests to be performed on real-sized IBS structures, model, prototype buildings, bridges, girders and other IBS components.
With the erection of the reaction wall, a combined loading system, i.e., vertical and horizontal on structural element can be conducted. Durability tests and dynamic strenght properties of components can also be determined apart from typical construction materials tests such as tensile, compression, bending, shear and pull-out-test.
Makmal Kerja Raya is the first laboratory in the country to introduce the usage of Radio Frequency Identification (RFID) in its concrete compression testing facalities. This is part of its total quality control for concrete testing to support the development of construction industry.
IBS Manufacturer & Product Registration Programme
IBS Manufacturer & Product Registration Programme is a scheme to assess and certify IBS manufacturers, distributors, suppliers and agents of IBS products, based on a set of certification requisites.
The aim is to produce a list of certified IBS manufacturers for the Malaysian construction industry. There are two scope of certification as mentioned below :
1) IBS Status Manufacturer
2) IBS Status Distributor / Supplier / Agent
These two categories are further classified into six specialisation groups, which are:
1) Precast Concrete System
2) Metal Framing System
3) Formwork System
4) Timber Framing System
5) Blockwork System
6) Other IBS System (applies to labour saving component)
The certified manufacturers are entitled for the following benefit:
Listing in the "Certified IBS Manufacturer List". The list is to facilitate the government and private organisations in choosing certified quality products and firms.
Participation in promotional activities by CIDB Malaysia through listing in IBS web portal, IBS Digest, IBS Centre web, electronic and Orange Book directory.
IBS Contractor Training Programme
IBS Contractor Training Programme is to train contractors in five types of specialisation modules.
IBS Installer Training Programme
This programme is established to accreditate skilled workers in installing IBS components. It is open to those who are gainfully employed in Malaysia and want to focus on an occupational area. It is also a pathway to acquire the required competencies.
The programme is based on the standard practise in National Occupational Skill Standard (NOSS) and developed for five different trades and levels.
IBS - Precast Concrete

i. Level 1: Precast Concrete Installer (Building)
ii. Level 2: Precast Concrete Installer (Building)
iii. Level 3:Precast Concrete Supervisor (Building)

IBS - Lightweight Panel

i. Level 1: Lightweight Panel Installer
ii. Level 2: Lightweight Panel Installer
iii. Level 3: Lightweight Panel Supervisor

IBS – Lightweight Blockwall

i. Level 1: Lightweight Blockwall Installer
ii. Level 2: Lightweight Blockwall Installer
iii. Level 3: Lightweight Blockwall Supervisor

IBS System Formwork

i. Level 1: System Formwork Installer
ii. Level 2: System Formwork Foreman
iii. Level 3: System Formwork Supervisor

IBS Roof Truss

i. Level 1: Roof Truss Installer (Timber)
ii. Level 2: Roof Truss Installer (Timber)
iii. Level 1: Roof Truss Installer (Light Gauge Steel)
iv. Level 2: Roof Truss Installer (Light Gauge Steel)
v. Level 3: Roof Truss Supervisor (Light Gauge Steel)
Upon completion, participants are awarded Sijil Kecekapan Kemahiran (SKK) and 25 CCD points.
IBS Professional Training Programme
This training programme is meant for IBS professionals, targetting architects, civil engineers, quantity surveyors, mechanical and electrical engineers involved in building projects.
The objective of the programme is to facilitate government and private project implementors in commencing IBS projects.
The content of modules and criteria for each programme have been formulated with the cooperation of various professional bodies representatives and government bodies such as Ministry of Work, Architect Board of Malaysia, Quantity Surveyor Board of Malaysia, Engineers Board of Malaysia, Pertubuhan Arkitek Malaysia (PAM), Institute of Surveyor Malaysia (ISM), Institute of Engineers Malaysia (IEM), and The Association of Consulting Engineers Malaysia (ACEM).
The courses that are to be fullfilled:
Pengenalan Kepada Sistem Binaan Berindustri (IBS) untuk Bangunan
Sistem Koordinasi Modular
Manual for IBS Content Scoring System (IBS Score)
Konsep Reka Bentuk Sistem Konkrit Pra-tuang