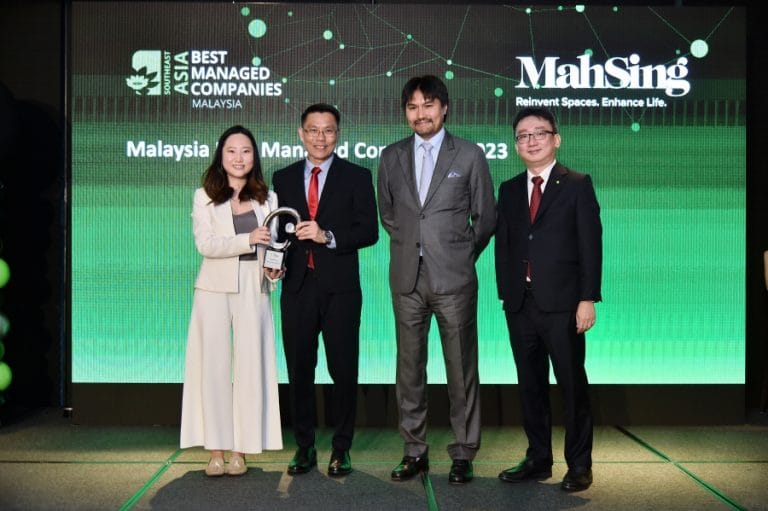 Mah Sing founder and group MD Tan Sri Leong Hoy Kum says the award reflects the company's relentless pursuit of best practices, strong governance, and sustainable growth.
Mah Sing Group Berhad, a leading property developer, has been honoured by Deloitte as one of Malaysia's top companies for 2023. This recognition is part of Deloitte Private's prestigious Best Managed programme, dedicated to serving private clients.
Launched in 2021, the awards recognise privately and family-owned companies listed on Bursa Malaysia, with a minimum annual revenue of US$50 million, for their outstanding organisational performance and accomplishments.
Mah Sing's rapid business model allows for quick progress across all aspects of their projects. From acquiring land to development, completion, and handover to customers, Mah Sing takes pride in their efficiency.
With a portfolio of 55 projects, they currently have a gross development value (GDV) and unbilled sales totalling RM27.36 billion, guaranteeing consistent and visible earnings for the group. 
For 30 years, Mah Sing has continuously adapted and improved to stay ahead while staying true to their commitment to outstanding service, sustainable practices, and providing high-quality and affordable homes.
"Being recognised among Malaysia's Best Managed Companies 2023 is an incredible honour and a testament to our dedication to excellence and innovation," says Mah Sing founder and group managing director Tan Sri Leong Hoy Kum. 
"It reflects our relentless pursuit of best practices, strong governance, and sustainable growth.
"This recognition inspires us to continue pushing boundaries, delivering exceptional value to our stakeholders, and setting new benchmarks in the industry. 
"We are proud of this achievement, and it inspires us to reach even greater heights in future."