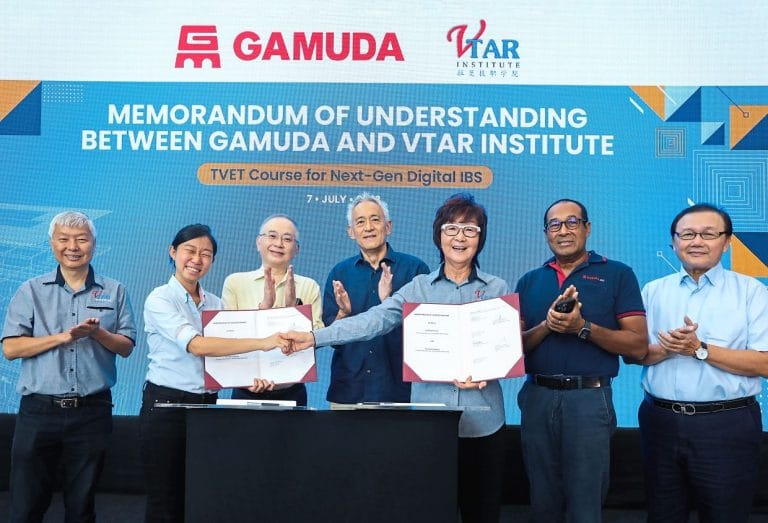 (From left): VTAR chairman Soon Mon Huay, Gamuda Engineering executive director Lim Hui Yan, VTAR advisor and former transport minister Datuk Seri Wee Ka Siong, Gamuda group managing director Datuk Lin Yun Ling, VTAR CEO Tan Cheng Liang, Gamuda Engineering executive director Datuk Ubull Din Om and Master Builders Association Malaysia president Oliver Wee at the MOU signing ceremony. (Photo by Gamuda Bhd)
Gamuda Berhad has signed a pact with VTAR Institute to introduce a groundbreaking TVET course on Digital Industrialised Building System (Digital IBS) in Malaysia.
Launching in September 2023, this RM30 million collaboration will introduce the Certificate in Digital Manufacturing in Construction.
In line with this, Gamuda Land plans to construct over 3,000 units annually, with 90% utilising the next-gen Digital IBS technology. Get ready for a future of innovation and environmental consciousness in the property industry.
If you're a Malaysian student interested in digital manufacturing in construction, check out the Certificate in Digital Manufacturing in Construction programme.
This 24-month training programme provides an excellent opportunity for students to learn and hone their skills to excel in this industry.
During the programme, you will get three months of soft skills training at VTAR, followed by 21 months of on-the-job training in the actual work environment.
You will also get to take your final assessment at Gamuda's next-gen Digital IBS factory in Banting, Selangor. This means you'll have plenty of opportunities to learn, practice, and perfect your craft.
Gamuda's next-gen Digital IBS technology digitises the entire process, from cloud-based design to robotic manufacturing and Lego-like installation on site, drastically reducing reliance on unskilled foreign workers by 55%.
The benefits don't stop there; with gains in productivity and efficiency, there is also a 40% reduction in embodied carbon. This is a game changer for the construction industry, providing a more environmentally friendly and cost-effective approach to building.