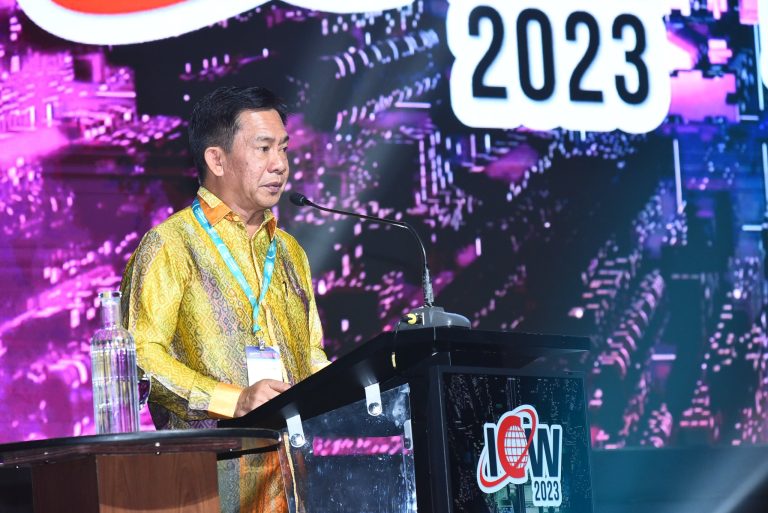 The International Construction Week (ICW) 2023 officially commenced with a grand opening ceremony on Nov 16 at the Malaysia International Trade and Exhibition Centre (MITEC). YB Yusuf Bin Abd Wahab, Chairman of CIDB Malaysia, delivered a welcoming speech expressing gratitude to the Minister of Works and highlighting the transformative impact of the Construction Skills Qualification Framework (CSQF).
In his speech, Chairman Yusuf Bin Abd Wahab thanked the Minister of Works, Dato Sri Alexander Nanta Linggi, for his dedication to the construction industry's development. He emphasised the importance of the CSQF in shaping the future of construction expertise in Malaysia. The CSQF serves as a structured approach to skills development and training within the industry, ensuring individuals are equipped with the right knowledge and capabilities. The Chairman also welcomed the Minister of Infrastructure, Housing & Urban Development from Zambia, Honourable Engineer Charles Milupi, who attended the event.
Despite challenges, including the COVID-19 pandemic, CIDB Malaysia successfully organised the previous ICW virtually, fostering innovation and collaboration. He said: "Amidst the challenges of the past, including the formidable COVID-19 pandemic, the construction industry demonstrated resilience and determination. Even with the hurdles, CIDB Malaysia was able to successfully organise the International Construction Week virtually. This ensured that the spirit of innovation and collaboration continued to thrive, despite the adversity faced."
ICW 2023, in its 22nd edition, returns as a physical event at MITEC, introducing the inaugural BuildXpo – Malaysia's International Building Construction Industry Showcase. The BuildXpo featured over 200 exhibition booths from more than 50 participating companies, showcasing ground-breaking innovations and was visited by over 10,000 visitors.