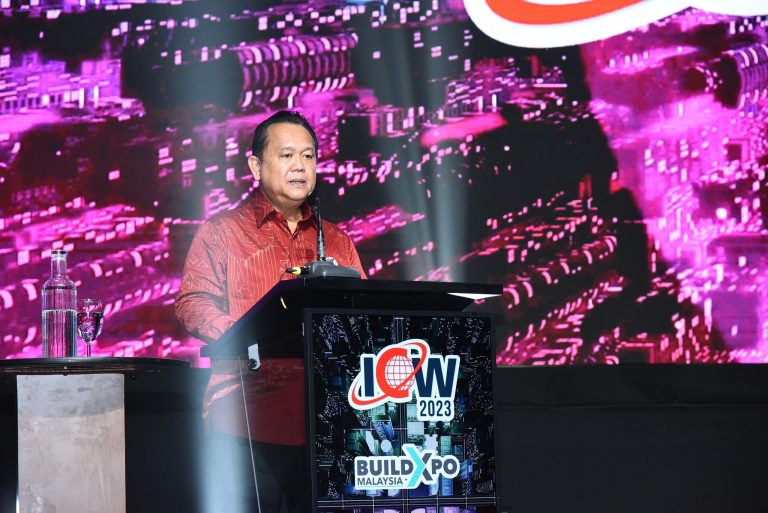 In a momentous ceremony at the Malaysia International Trade and Exhibition Centre (MITEC), YB Dato Sri Alexander Nanta Linggi, the Minister of Works of Malaysia, officially inaugurated the International Construction Week 2023 and BuildXpo 2023 on Nov 15. The event, hosted by the Construction Industry Development Board (CIDB) Malaysia and the Ministry of Works Malaysia, drew together distinguished dignitaries, esteemed leaders of the construction industry, and an honourable audience.
In his opening address, Nanta expressed his gratitude for the warm welcome, emphasising the significance of the construction industry as a dynamic catalyst for economic vitality and societal advancement. He acknowledged the dedication and commitment of the professionals and builders present, highlighting their role in propelling Malaysia forward.
"The construction industry serves as a transformative force, creating opportunities that resonate across sectors, from manufacturing to services. It symbolises economic vitality and societal advancement, fostering prosperity and improved infrastructure," said Nanta.
The Minister underscores the pivotal juncture at which the construction industry finds itself, shifting from merely erecting structures to constructing a sustainable future for both people and the planet. The event's theme, "Leading ESG in Construction", reflects the collective commitment to Environmental, Social, and Governance principles that guide the industry towards sustainable development.
"Our choices today will echo through generations, influencing not just the physical landscape but the social fabric of our society and the ethical compass guiding our actions," he stated.
Highlighting the impressive growth of Malaysia's construction sector, Minister Nanta Linggi shared statistics indicating the successful commencement of 9,144 projects as of September 2023. These projects, with a total investment of RM147 billion, signify the vibrancy of the construction industry. Notably, 91% of these projects are managed by local contractors, showcasing their expertise in shaping Malaysia's infrastructure landscape.
"These statistics embody progress, development, and the unwavering promise of a brighter future. Today's infrastructural investments pave the way for enhanced connectivity, improved education, superior healthcare, and an elevated quality of life for every Malaysian."