When it comes to Building Information Modelling (BIM), collaboration is the name of the game. Seamless, transparent, integrated workflows between architects and engineers in a shared experience with cloud-based teamwork and mobile BIM workflows result in a more effective building design and engineering — reducing risk, increasing trust, and improving quality.
By Edmund Lau, Managing Director, GRAPHISOFT, Singapore and Malaysia.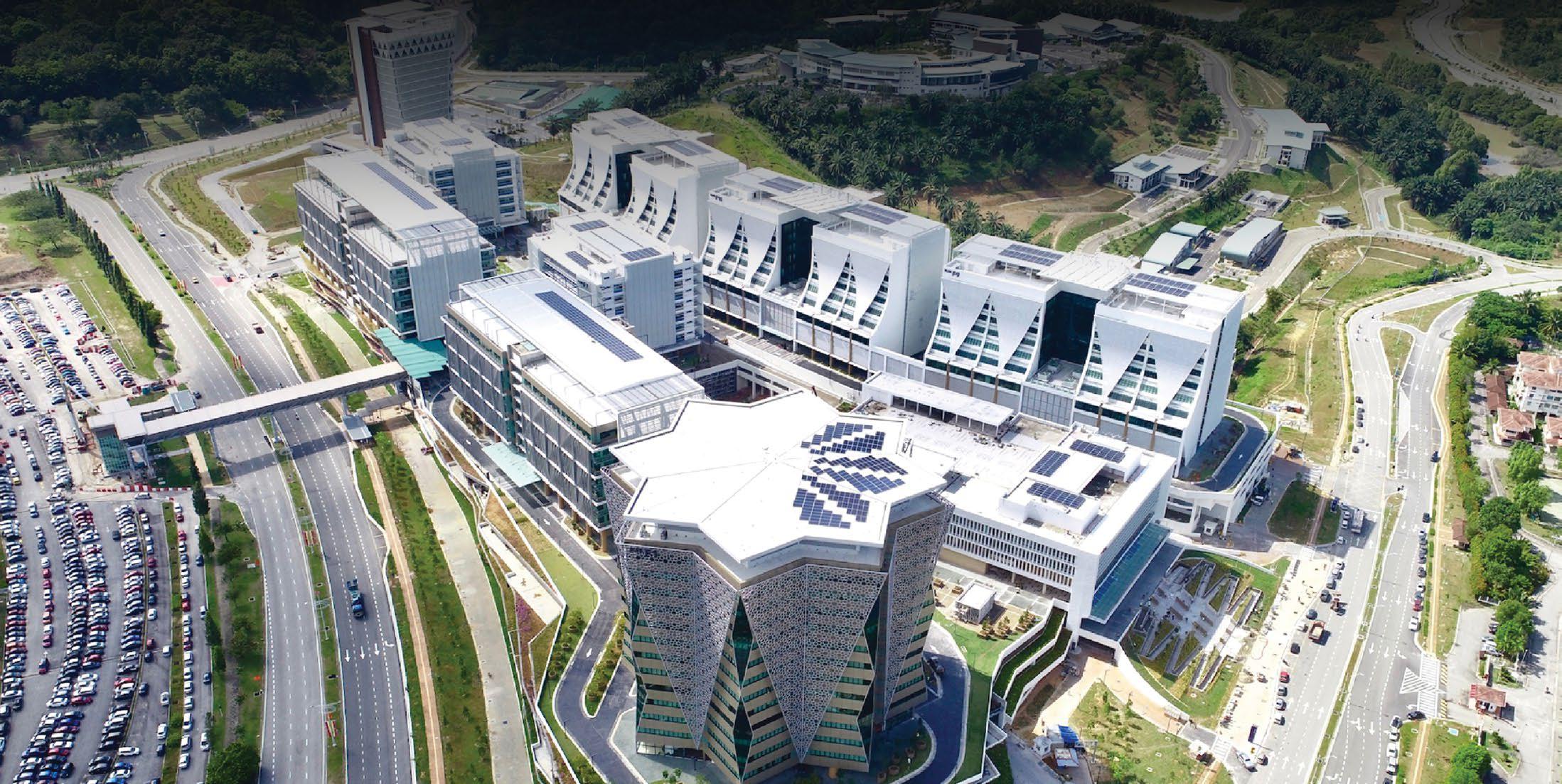 The construction industry plays a crucial role in Malaysia's economy, contributing 4 to 6 percents of the country's Gross Domestic Product (GDP) annually. The allocations
made in the recent 2020 Budget show that the Malaysian government prioritises the construction industry as one of the critical drivers of the nation's economic development. In line with this, it is worth noting that the local architectural service sector also serves as one of the industry's key players and has contributed to the country's economic development.
Although Building Information Modelling (BIM) is not a new buzzword within Malaysia's construction and architecture industry, it is now steadily gaining momentum. The Malaysian construction industry has taken very notable steps at the national level to elevate the industry's performance by advocating the adoption of BIM.
However, there are still many factors hindering BIM implementation, including the lack of understanding around the process of onboarding BIM technologies, a shortage of skilled practitioners, unsupportive, stakeholders, resistance to changing current ways of work, an absence of collaboration and coordination among various disciplines, and limited availability of usage guidelines. As such, the use of BIM within the industry is still at low levels.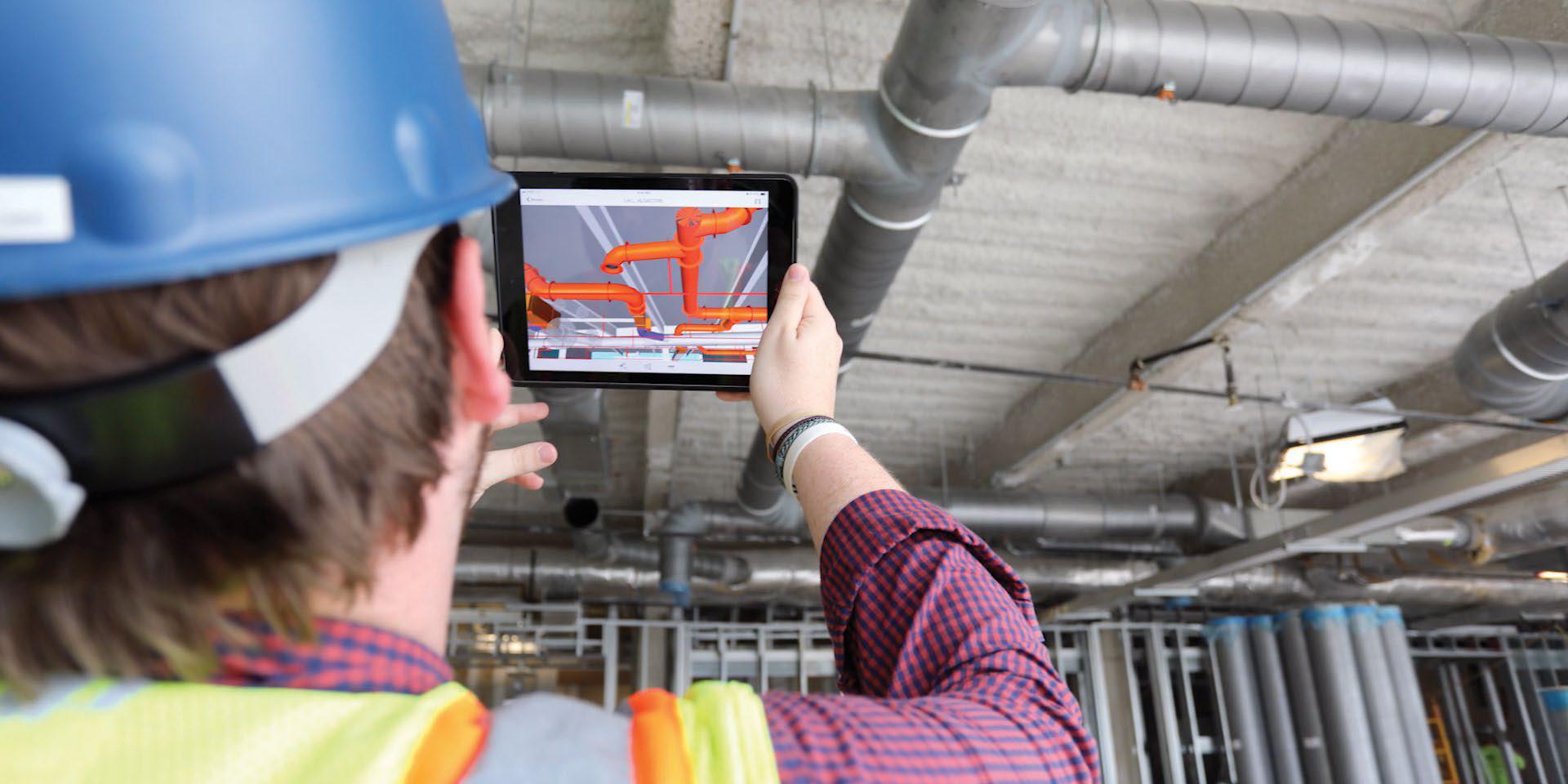 Projects of any size are now easily experienced on a mobile device with the brand-new BIMx 3D engine utilised by Archicad.
Streamlining how the Architecture and Construction Industry Gets Work Done
When it comes to BIM, everything begins with a 3D digital model of the building – a model that is more than pure geometry and nice textures cast over it for visualisation. An accurate BIM model includes the virtual equivalents of the actual building's parts and pieces used for the construction. These virtual elements have all the attributes — both physical and logical — of their real counterparts. Like the digital prototype of the physical building, such as walls, columns, windows, doors, and stairs, that allows us to visualise the building and understand its behaviour in a computer environment, way before the actual construction begins.
BIM applications allow us to virtually simulate the construction process. Instead of just creating drawings from 2D line-work, buildings are virtually modelled from real construction elements and which allows architects to design buildings as closely as possible as to how they would be built physically. Since all data is saved in the central virtual building model, any design changes are automatically followed-up on individual drawings generated from the model.
With this integrated model approach, BIM not only offers a significant increase in productivity but also serves as the basis
for better-coordinated designs and a computer model-based building process. Adoption of BIM will ensure firms of productivity gains and other cost efficiencies made possible through BIM adoption, hence leading to a higher level of competitiveness overall.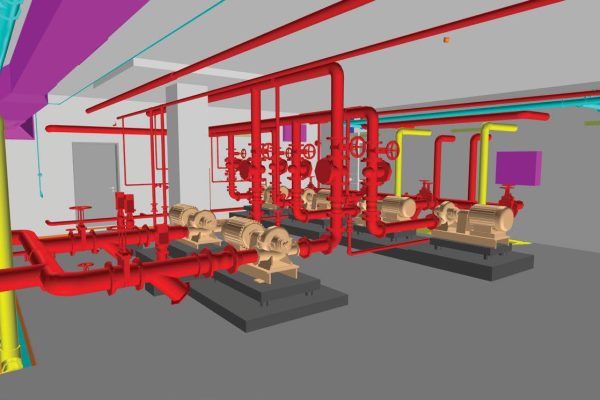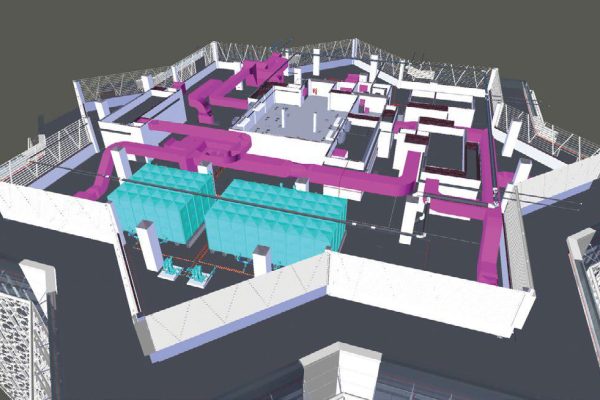 BIMming It
The BIM system was adopted in the development and management of the building design system through the use of three-dimensional (3D) images and smart design information. As Parcel F was under a Design & Build contract, the contractor, Sunway Construction Sdn. Bhd. was required to convert all Contract Drawings to 3D models and to upgrade the models with a detailed design based on their in-house consultants' design.
Subsequently, they were expected to conduct Coordination and Clash Analysis Workshops, BIM Field Verification (BFV) sessions and produce the BIM as-built model together with the in-house and checker consultants.
At the same time, a series of Need Analysis and User Requirement Studies were conducted with the client's Facility Management (FM) team to collate all required FM and asset information for the FM operations. All consultants, be they in-House or checker consultants, where required to be involved in all the BIM processes and works.
"The KLCC Projeks' Management Team (PMT) was fully involved in all the BIM implementation stages and processes. They also monitored, reviewed, advised and managed the BIM implementation throughout the project cycle until BIM works are completed and handed over to the Client's Property Management Team," Zaidatul said.
BIM made perfect sense for this project due to the complexity of the design, the interlinking of the utility services between one block to another and to ease the of coordination works between all trades.

Benefits of BIM
Construction works began on 24 May 2016 and Parcel F received the Certificate of Acceptance on 25 November 2019. The migration of over 5,800 staff to the new building commenced on 6 January 2020.
"Thanks to BIM, we successfully completed this large project on-time. This is quite a feat as large projects are prone to delays and cost overrun," said Zaidatul. The BIM system was adopted in the development and management of the building design system through the use of three dimensional (3D) images and smart design information.
"About 90% of the design discrepancies and disputes were resolved and finalised before construction. This has greatly minimised the rectification and double handling works and expedited the progress."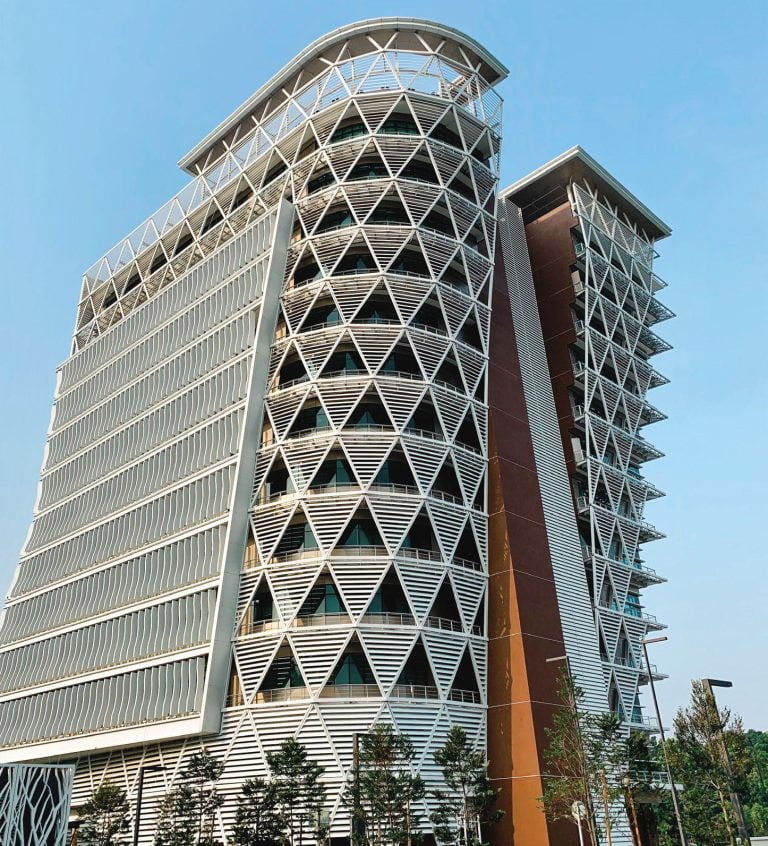 Parcel F received the GBI – Provisional DA Gold certification as a testament to its the efficiency of resource use.
In short, the advantages of BIM the team experienced include:
Structured and better design insight

Early detection of any possibilities of site issues

Increased time efficiency by avoiding misunderstandings

Production of better quality designs

Efficient exchange of important information between the numerous stakeholders

3D models can automatically be used for the FM information system

Promotes a green environment by minimising paper usage
All 10 blocks of Parcel F were also GBI
– Provisional DA Gold certified simultaneously and will receive the Completion & Verification Assessment (CVA) when it has 50% occupancy or a year after migration, whichever comes later.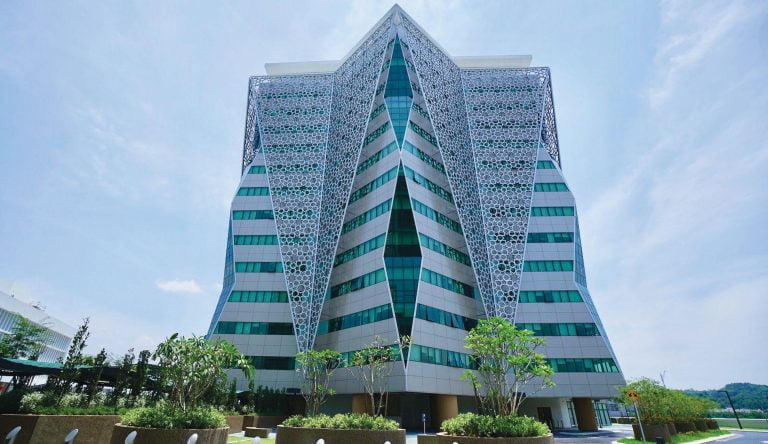 Parcel F's overall architectural concept is inspired by the traditional songket
where different threads are intricately woven together to form a beautiful and cohesive piece.
Challenges Faced & Overcome
KLCC Projeks began their foray into BIM in 2013. "Before Parcel F, we implemented BIM in one of our projects but did not see much success," Zaidatul recalled. "What made Parcel F so successful was the commitment of all involved to see it through to completion," Indeed, BIM is not a model, but rather a process. As such, the people in the project are the determining factor in making the process run smoothly and efficiently.
According to Zaidatul, most of the challenges were encountered in the earlier stages of implementation, as there was a lot of confusion and misconceptions about BIM. There was also resistance to adopting BIM as it required changing the normal ways of working. "People, by nature, are typically resistant to change," Zaidatul commented ruefully.
Nevertheless, the KLCC Projeks project management team were committed to seeing this through and filling in the gaps as best as they could. They attended numerous BIM training sessions, conferences and workshops locally and abroad to learn from and share their experiences with other BIM practitioners. With the knowledge and experience gained, KLCC Projeks was able to craft the required BIM Scope of Works and Specifications for the Parcel F Project.
"Another challenge encountered was having no project reference. As such, there were many trial exercises to ascertain the correct processes. Finally, after three months of trial and error, the correct work processes were developed," she explained.
It was only after the sixth month that the BIM implementation managed to take off to a flying start. "After much perseverance and dedication, we finally saw positive tangible outcomes, such as better collaboration and communication amongst team players, preconstruction project visualisation, improved coordination and clash detection, reduced cost and mitigated risk," she said.
"I would like to extend my greatest appreciation to our client Putrajaya Bina Sdn Bhd, my superiors in KLCC Projeks, the Project Management Team, the contractor Sunway Construction, consultants and everyone who has contributed to making a virtual Parcel F into a reality," said Zaidatul. "It would not have been possible without all of them."
"What made Parcel F so successful was the commitment of all involved to see it through to completion"
Invaluable Lessons Learned
The lessons learned from Parcel F have since been used as a reference for future KLCC Projeks' BIM projects. KLCC Projeks is currently managing six high-rise projects using BIM. These projects are located in the KLCC Precinct areas and Putrajaya.
"I'm tasked to head the Business & Technical Services, which includes strategising and implementing various initiatives, monitoring performances and taking remedial actions to enhance KLCC Projeks' competitiveness, speed, accuracy and agility in delivering quality projects," said Zaidatul.
"To date, we have trained 174 employees, which is about 57% of our total workforce, on critical training programs, such as BIM Revit for Architecture, C&S and M&E, BIM Naviswork for 3D Clash Analysis, BIM Naviswork for 4D Project Planning and BIM Cubicost 5D Cost (for Quantity Surveyors)."
Significantly, KLCC Projeks has developed its own BIM Standard Operating Procedures (SOP), which is an important guideline for them to project-manage BIM projects effectively and efficiently. "With the limited availability of guidelines customised for the Malaysian landscape, KLCC Projeks has been referred to by the construction industry players for
knowledge sharing on project management experience in BIM," Zaidatul said. To that end, several higher learning institutions have recently approached KLCC Projeks for collaboration in the area of BIM research and development.
BIM – The Obvious Solution
Zaidatul heartily recommends BIM for all types of projects. She believes that the higher the BIM adoption rate, the more accessible it becomes to all construction players, which in turn will benefit them greatly.
"The construction industry needs to be fast in embracing technology and digitalisation as new construction projects have continually pushed the boundaries of design to meet increasingly ambitious demands. BIM is the obvious solution to remain relevant," she emphasised. 
She is pleased to note that most of the big and complex projects today have already adopted BIM. In fact, many consultants and contractors are in the process of enhancing and upgrading their company's BIM knowledge and capability.
"Universities are also currently focusing on BIM and how it can be applied effectively in the construction industry. BIM is one of the subjects in the course modules," she said approvingly.
"BIM plays a vital role in driving Malaysia's construction industry and will continue to shape the built world. Therefore, industry players should be ready to embrace Construction 4.0 which is expected to be widely used in Malaysia by 2025."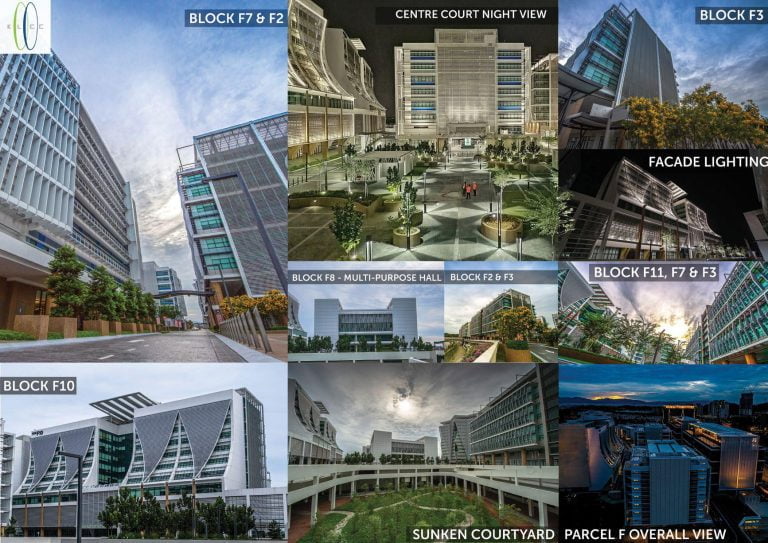 Design and Analysis:
Human error is inevitable, and this is an area where BIM can help dramatically. With built-in physical and analytical model checking, it increases the reliability and accuracy of the model designed. Those details include information on the exact make, model, specifications, quantities, and materials of everything used in the construction.
Furthermore, BIM software, such as GRAPHISOFT Archicad 24 unites architects and engineers, who can now work on a shared model. This promotes collaboration by creating consistent information models throughout the design and construction process, along with greater standardisation, resulting in less waste and less costly revisions on projects.
By allowing members of various teams to check in with each other, regardless of their location, at routine intervals and ensure that designs, systems, and structures are organised, BIM also reduces errors, which makes the process run much more smoothly and protects the initial concept.
"With this integrated model approach, BIM not only offers a significant increase in productivity but also serves as the basis for better-coordinated designs and a computer model-based building process".
Collaboration:
Thanks to the ability to track changes, architects and structural engineers can now co-design the building's load-bearing structure. They can easily compare two different versions of the same design to view various design options and compare content from consultants. Leveraging the cloud, it is possible to suggest design variations, organise the results of comparing models into smart issue lists with assignment names, prioritise tasks and even create an issue log. This allows for built-in transparency and enhanced reliability so that team members can collaborate effortlessly.
Documentation:
Another critical feature of BIM software like GRAPHISOFT Archicad 24 is the complete documentation sets and the powerful publishing workflow that follows local BIM requirements. This means that architects can focus on their designs, leaving the paperwork to the software, thus enhancing efficiency.
Visualisation:
Additionally, BIM offers better ways of communicating the design. It can create high-end visualisations quickly and easily with material surfaces, which results in stunning photo-realistic renderings. With the built-in palette of visualisation tools and workflows, rendering, and VR solutions, it speeds up all stakeholders' and clients' understanding of the design and helps make sure clients are reassured about what they are signing off on.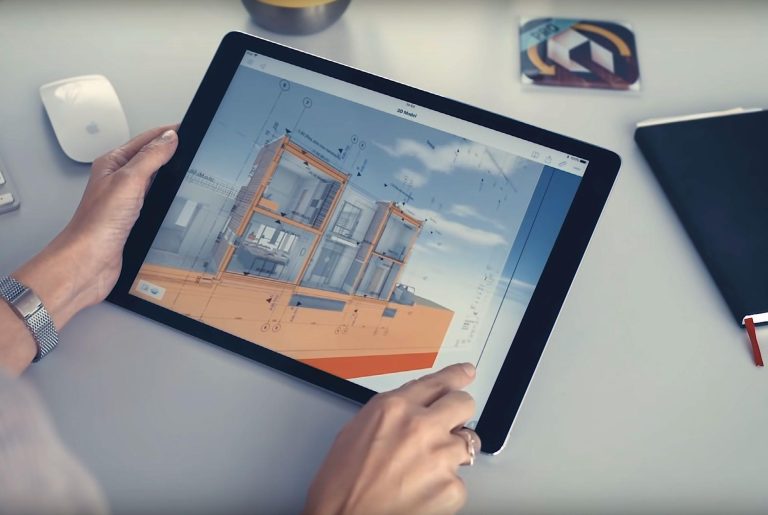 Thanks to over 500 revamped materials in GRAPHISOFT Archicad 24,
architects can create even richer, more compelling renderings.
Adopting a BIM Workflow
The move towards a complete BIM workflow requires a high degree of commitment and can sound daunting. After deciding to move to BIM, the next consideration for architectural and construction firms is acting on it. BIM involves change. The reorganisation of processes and workflows, as well as the learning curve, can be tedious in the beginning. Still, with training and consultation from a good software provider, the benefits far exceed the investment in the software.
Thankfully, the Malaysian government has already embraced many measures to hasten the adoption of BIM, including establishing the myBIM Centre as a one-stop reference, support, services, and capacity-building centre. The centre conducts technical training, including collaborating with several universities to train the next generation of construction personnel.
When using BIM during the planning and designing stage, any problem that arises can be resolved at once. However, when the issues are encountered during construction, it could be costly and potentially delay construction. Therefore, the adoption of such innovations is fundamental for companies to remain competitive and deliver projects in a timely and cost-effective manner.
Furthermore, it is only through technology adoption that firms will be able to potentially realise game-changing innovations such as the recently much-discussed concept of "digital twins" (a digital replica or a representation of a physical object or an intangible system that can be tested or changed without negatively impacting it in the real world).
Through BIM adoption, the changes realised are significant, with the rewards far outweighing the initial investment and are only further compounded as your organisation becomes more proficient.
Merdeka 118, the world's second-tallest building was designed by Fender Katsalidis, Australia, and
long-time user of Archicad. (Photo credit: MERDEKA 118, FENDER KATSALIDIS, fkaustralia.com)