A look at how BIM is shaping the digital future of the construction industry in Malaysia.
The construction sector is one of the least digitised industries in the country. It is still catching up on digitalising existing processes that include data collection, communication and collaboration. The digitalisation of these fundamental processes will not only pave the way to future implementation of more advanced technologies, but also enable construction companies to be more efficient and remain competitive. The adoption of building information modelling (BIM) is one of the most effective ways for companies to make the digital leap.
The Construction Industry Transformation Programme 2016-2020 (CITP)'s ultimate goal is to enhance the productivity of the industry through three key drivers: the workforce, technology and processes. CITP recognises BIM, which was first introduced to the country in 2015, as the key technology which, if widely adopted, will multiply the productivity of the construction industry many times over.
"Using BIM in construction is like building a digital twin of the physical structure which enables us to track and manage all facets of the project from construction until operations and maintenance and demolition. This way, a lot of construction issues can be identified virtually and resolved at no cost," said Datuk Ir. Ahmad 'Asri Abdul Hamid, Chief Executive, CIDB Malaysia. "The use of BIM does not only transform the productivity level of a project, it also has a huge potential in increasing the ease of doing business."
Hence, CIDB, through its subsidiary CIDB E-Construct Services Sdn Bhd, has been tirelessly promoting BIM since 2016. These activities include initiatives in education and formulating training syllabuses, roadshows, mandating industry requirements for BIM adoption and the provision of BIM facilities and platforms, which include myBIM Centre and BIM satellites.
One-Stop BIM Resource Centres
Launched in November 2017, myBIM Centre located at Sunway Putra is tasked with the mantle of BIM training and development. The facilities at the country's first one stop BIM resource centre is said to be the best in the nation and even in the Southeast Asian region to date. "myBIM Centre is the brainchild of the National BIM Steering Committee comprising the Ministry of Works, Public Works Department, CIDB and industry stakeholders," said Rofizlan Ahmad, CEO of CIDB E-Construct Services Sdn. Bhd. the operator of myBIM Centre.
"They felt the need to have a comprehensive reference centre for BIM where industry players can obtain pertinent information, software, training, consultation and data," Rofizlan added. "My role is to ensure that the centre is operating at its most optimum capacity at all times."
He is also responsible for pushing forward myBIM Centre's primary goal, which is to promote and encourage construction industry players to take on BIM.
There are six BIM satellites under CIDB's purview across the nation and six other BIM satellites managed by CIDB's partners. All of them are equipped to conduct training, awareness programmes as well as offer BIM adoption consultancy and advisory services.
"Together with myBIM Centre, the 12 BIM satellites offer a platform for industry players to come together and collaborate on BIM projects right down to the organisational level," said Rofizlan.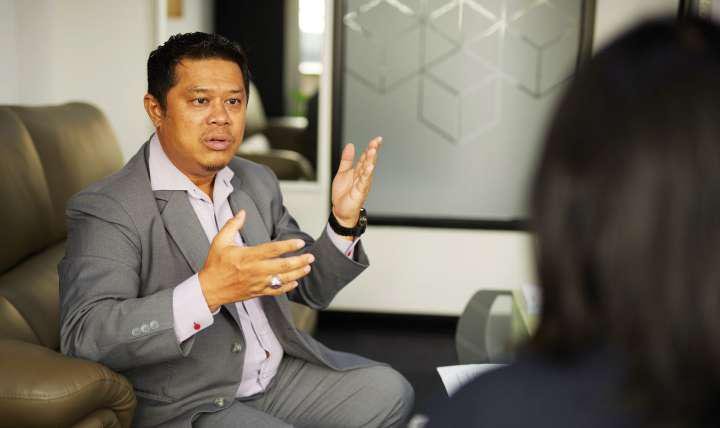 His team organises round table discussions with BIM practitioners in the industry at least twice a year to discuss issues related to BIM and what can be done to expedite the rate of BIM adoption. This spirit of openness and collaboration amongst industry players is essential for the betterment and growth of BIM adoption rates in the industry.
Rofizlan admits that the road ahead is still long. "It took AutoCAD (a simple drafting tool in comparison to BIM) a decade to be adopted by the industry. BIM adoption will take a great deal longer because it encompasses a whole ecosystem and culture."
"We are on the right track but more can be done," said Rofizlan. "Given that BIM adoption is a costly endeavour, the government can offer incentives and financial support to ease the initial financial outlay of construction companies."
"However, construction companies can take advantage of the quality training and certification offered by myBIM Centre at a fraction of the market rate," he smiled.
To date, myBIM Centre has trained and certified more than 7,000 participants. The Centre aims to train 1,000 people annually through its 12 modules. These modules cover all levels of BIM practitioners, such as managers, coordinators, modellers for architecture, structure, infrastructure and mechanical, electrical and plumbing (MEP).
"We have recently introduced a new course in BIM Facilities Management, which will elevate the industry to a whole new level. Ultimately, this programme should help leverage the stakeholders in upskilling and developing competencies for the nation building industry," said Rofizlan.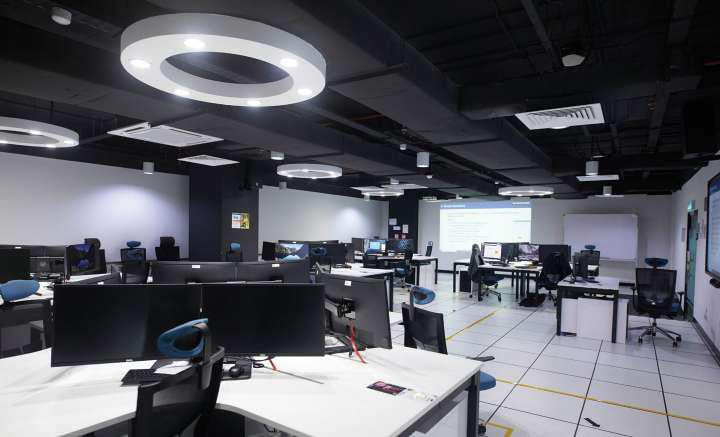 Revolutionising Digital Design and Marketing
myBIM Centre also offers the National BIM Library (NBL) service which helps BIM practitioners right from drawing the BIM model to downloading it from the NBL platforms.
The Library is structured and interactive to allow architects, consultants, engineers and designers familiar with the layout of the object library and online portals to quickly find, download and use the objects for their 3D construction design.
NBL currently holds more than 10,000 objects ranging from IBS precast and connectors to kitchen sinks and medical surgery trays from manufacturers that include Hong Leong Manufacturing Group, Hume Concrete and Sanieuro. Interested users can visit www. mybimlibrary.my for more information about this free tool.
Manufacturers are charged a minimal fee to upload their proprietary objects onto the Library. "They will gain the advantage of having contractors order their materials and products because these components have already been included in the final designs. It is a great way to market their products for sure," explained Rofizlan.
"Essentially, this is the future of construction and manufacturing design, and we are here to facilitate the industry's next big step into a revolutionary world of digital design and marketing."
Potential Massive Improvements in Turnaround Times
As a provider of fully-integrated ICT solutions, CIDB E-Construct Sdn. Bhd. is in the midst of developing the National BIM eSubmission (NBeS) for the local authorities including Petaling Jaya City Council (MBPJ), Putrajaya Corporation (PjC), Penang City Council (MBPP) and Kangar Municipal Council (MPK).
The objective of NBeS is to facilitate electronic building plans submission, as well as the checking and approval processes.
NBeS promises to offer immense benefits to the industry by massively improving industry turnaround time, productivity and quality. "The traditional submission and approval process takes 21 days for normal buildings and over 300 days for a complex skyscraper. NBeS will cut this time to two to 48 hours, depending on the file size and complexity of the models, provided that it is submitted in the correct native BIM format," he explained.
"The pilot projects among the selected local authorities have been successful thus far. Our goal is that by 2021, all city status local authorities will require BIM e-submissions through the NBeS platform by its principal submitting person (PSP)," said Rofizlan.

Moving Forward with BIM
Since 2019, public projects worth RM100 million and above are required to use BIM, which helped in giving it a kickstart. Rofizlan believes that CIDB's recommendation for the mandatory use of BIM in certain private sector projects by this year will pave the way to a greater adoption rate.
This will undoubtedly be in line with the recently announced Public Works Department (JKR) Strategic Plan 2021-2025, which has set the adoption of BIM to reach 50% next year and 80% by 2025.
Rofizlan lauded the initiatives of companies like UEM Sunrise that has adopted BIM since 2017 and has made BIM mandatory for all of its high-rise projects.
While BIM can be applied for all types of projects, Rofizlan states that highly complexed building constructions, such as hospitals and multi-billion projects would benefit most from BIM as it will help minimise the variation orders (VO). The National Cancer Institute, Endocrine Centre and Parcel F at Putrajaya, as well as several MRT stations, proudly stand as BIM success stories.
"I'm happy to say that myBIM Centre is on its way to being ISO 9001 certified. Currently, the British Standards Institution (BSI) has endorsed 3 out of our 12 modules, and upon completion, all of our modules will be internationally recognised," Rofizlan divulged.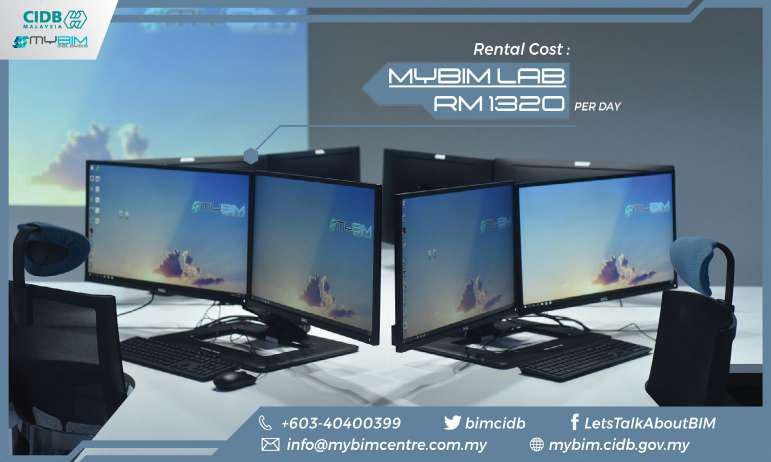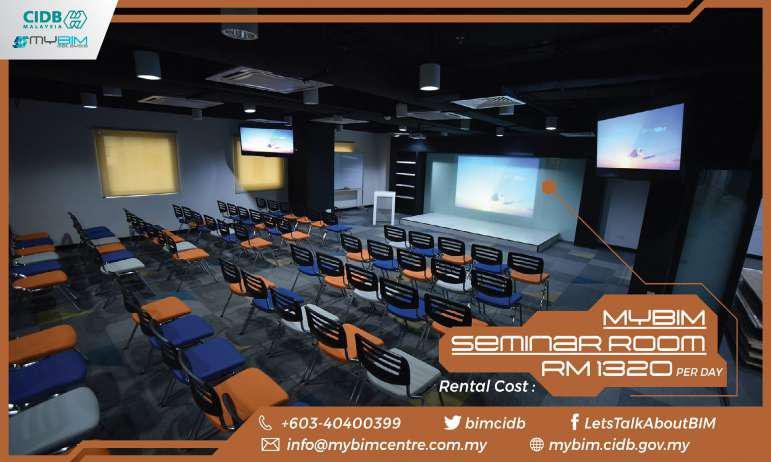 At present, myBIM Centre is able to hold a maximum of two classes with 40 students at a time. Space expansion is in the pipeline to increase its capacity. The well-appointed facilities include a modern, well-equipped and spacious pantry where students can take breaks in comfort inbetween classes.
"In addition to local students, we have also received quite a number of students from our neighbours in Southeast Asia including Singapore and Vietnam, who raved about our high quality of training offered at affordable prices at state-of-theart facilities. With our expansion, more students can be trained and equipped as competent BIM professionals to bring our industry to greater heights," he said.
"I truly believe that BIM can exponentially grow and will become the new industry culture as soon as the younger generation, who are very comfortable with technology, enters the industry to replace the current players and stakeholders," Rofizlan concluded.