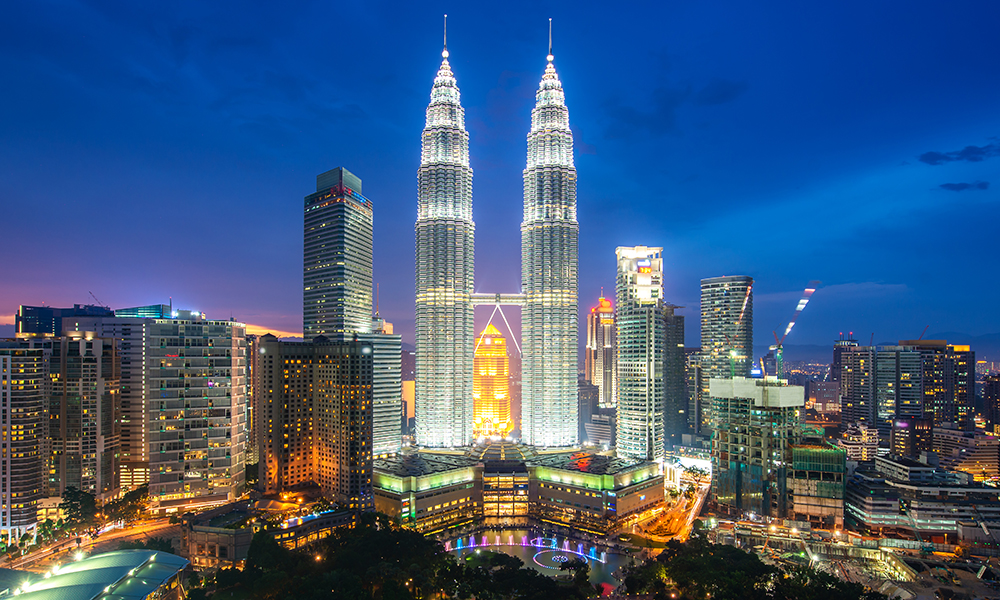 The Kuala Lumpur City Centre (KLCC) is an iconic symbol of modernity and progress in Malaysia, a towering testament to the nation's architectural prowess and ambition. Situated in the heart of Kuala Lumpur, the KLCC complex comprises various structures, with the Petronas Twin Towers as its dazzling centrepiece.
The KLCC's story began in the early 1990s when Malaysia aspired to position itself on the global stage. The concept was to create a dynamic urban centre that would encapsulate the nation's progress while honouring its past. The Petronas Twin Towers, designed by architect Cesar Pelli, took centre stage in this ambitious endeavour. Their groundbreaking design of the towers is interconnected by a sky bridge on the 41st and 42nd floors, symbolising modernity and unity, with the sky bridge connecting the two towers serving as a representation of Malaysia's harmonious multicultural identity.
The KLCC development is not limited to the Petronas Twin Towers. The Suria KLCC shopping mall, the Dewan Filharmonik Petronas concert hall, and the expansive KLCC Park are all integral parts of this urban oasis. Suria KLCC is a shopper's paradise, blending high-end boutiques and international brands. The Dewan Filharmonik Petronas, home to the Malaysian Philharmonic Orchestra, is renowned for its acoustic excellence and cultural contributions.
Beyond its architectural splendour, the KLCC complex encapsulates Malaysia's commitment to remembering its roots. The site is steeped in history, serving as a location where significant historical events occurred during the country's journey to independence. The KLCC Park, a serene green space within the complex, offers a place for reflection and connection to the past. Providing a tranquil getaway from the bustling city, the park also hosts various events and gatherings throughout the year, fostering a sense of community.
The KLCC has undoubtedly transformed into a national landmark, embodying Malaysia's progress while maintaining its connection to history. The site's relevance is seen not just in its impressive architecture but in its role as a hub for culture, business, and recreation. Its central location in Kuala Lumpur makes it conveniently accessible to locals and tourists, serving as a melting pot of experiences and memories.
As Malaysia continues to forge ahead, the KLCC stands tall as a symbol of the nation's growth and unity. It serves as a constant reminder that advancement does not have to disregard heritage – it can seamlessly blend the past and the present to create a bright future. The Kuala Lumpur City Centre is not just a building; it's a tribute to the nation's journey and a beacon of inspiration for generations to come. It will remain an enduring testament to the nation's architectural and developmental achievements.