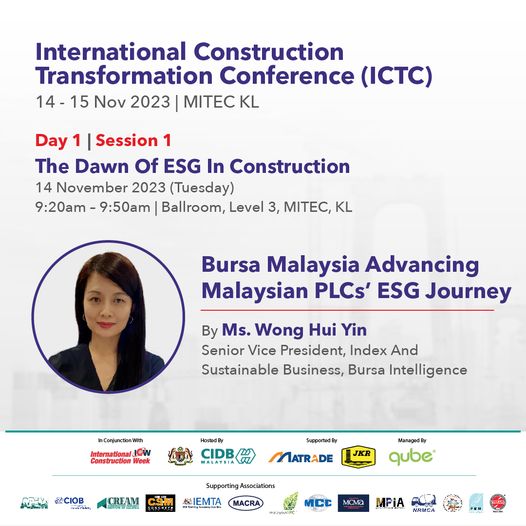 Mark your calendars for 14-15 November 2023, and join us at the International Construction Transformation Conference 2023 (ICTC 2023), held in conjunction with the International Construction Week (ICW) 2023, at Ballroom, MITEC, KL.
On 14th November 2023, we'll be hosting Session 1: The Dawn of ESG in Construction, which will feature a compelling talk titled "Bursa Malaysia Advancing Malaysian PLC's ESG Journey" by Ms. Wong Hui Yin, Senior Vice President, Index and Sustainable Business, Bursa Intelligence, Bursa Malaysia Berhad.
Don't miss out on this opportunity to be at the forefront of change. Join us at ICTC 2023 and be part of the construction evolution!
Register today at https://evms.cidb.gov.my/event/HGb8478YnTI