The timeless structure houses 11 world-class exhibition halls designed to attract visitors from around the globe.
Touted as Southeast Asia's largest exhibition centre, MITEC is a dazzling, sculptural, and sophisticated structure that sprawls across a 13.1-acre plot near Dutamas. The exhibition centre, which opened in 2016, is the first phase of Naza TTDI Sdn Bhd's RM20 billion KL Metropolis development, encompassing 75.5 acres.
The exhibition centre, made of glass and aluminium, has three levels of 11 modular-designed halls and a total exhibition space of one million square feet, with a capacity of 40,000 people. With its curving façade and pillarless interiors, it is destined to become one of the city's most iconic landmarks.
According to Ar. Hud Bakar, Principal and Director of RSP Architects, and the designer for MITEC, the design is unique and specific for the site.
That said, MITEC's stately and elliptical design is inspired by the humble rubber seed, which pays tribute to Malaysia's fundamental and age-old rubber industry. "MITEC is essentially a government agency with the mission of exporting goods and services. Rubber was (and still is) a major source of revenue for our country, so I thought it would be appropriate to utilise it as a point of reference and inspiration," said Hud.
The rubber seed allusion is expressed in an abstract and modern way.
Given the shape of the rubber seed, it appears like a giant pod. Each floor may also be partitioned into three halls to be utilised separately. The floor may bear a load of a maximum of 5 ton/sq. m. of machinery or vehicle weight. This complies with contemporary functions and needs of trade shows, motor shows, expositions, festivals or fairs.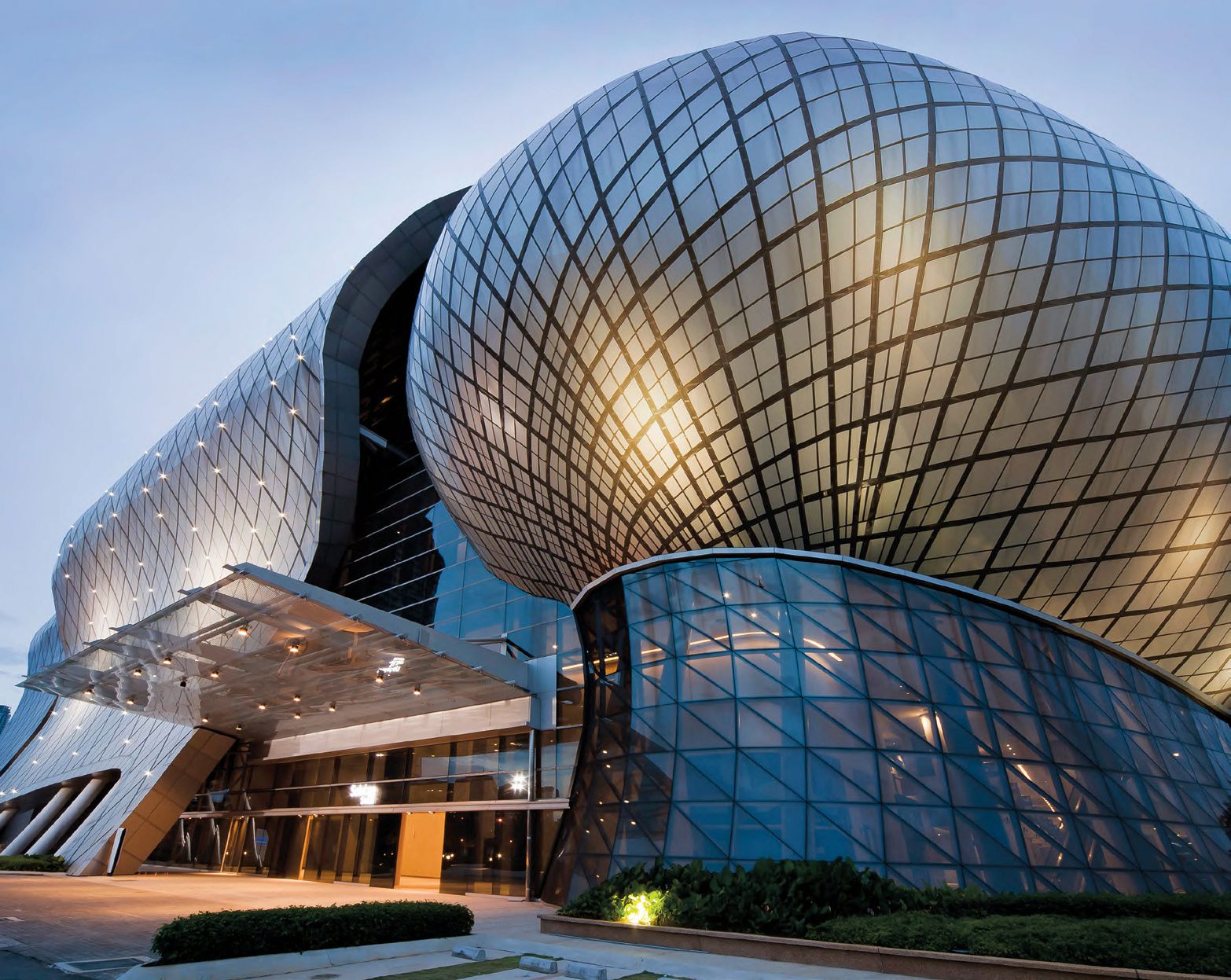 In addition to the tribute to the rubber industry, which marked Malaysia's modern economic transformation, the façade of the building also included an impression of local traditional craft. "The diamond-like pattern on the façade is derived from the weaving motif of songket," Hud commented. It is fused into the design scheme to portray a sense of local identity
MITEC provides an approximately 30- 60 meters wide and 9-12 meters height of 12,530 sq. m. column-free space with a clear ceiling. "Additionally, the dynamic and massive three double volume floors are not something one could get in just about any other building. Simply Ar. Hud Bakar, Principal and Director of RSP Architects put, it offers state-of-the-art facilities in an aerodynamic structure."
The triangular stretch membrane ceiling, expanded metal screens, low e-glass for the facade, external concaved glass wall-support on vertical (M/S box sections behind the glass lines), aluminium expanded wire mesh cladding, glazed façade with diamond-shaped expression supported by Steel Diagrid, and steel bow truss are just a few of the materials used. They all contributed to the development of the majestic and elliptical structure.
"To me, the interesting part is the main roof which combined various acoustic and non-acoustic thermal insulation components," quipped Hud. The design is made up of 20,700 ACP panel components. Because of the curvature of the roofing form, each diamond-patterned panel is unique. The built-up system is composed of layers. The metal deck comes first, followed by the rock wool insulation, fibre cement board, Sika Sarnafil membrane, and the Alucobond ACP panels.
"Ultimately, we want visitors to be enthralled and perhaps be bewildered by it all, thinking how it came about and what building this is," he added.
They say Rome was not built in a day, which rings true for MITEC. The design and build efforts took a total of seven years and six months. The schematic design phase spanned from June to December 2010. The design development phase took place from January to September 2011. The contract documentation took six months to complete, from October 2011 to April 2012. The bulk of the effort lay in the construction phase, where the earthworks took six months from July to November 2012, and the construction of the main building took four years from December 2012 to December 2016.
The challenges, said Hud, came from the form and size of the project itself due to its unusual shape, non-ordinary rectangular building structure and extensive magnitude. "We overcame it through various solutions derived from technical research and findings, architectural software, as well as study visits to other similar buildings in Guangzhou and Hong Kong," Hud concluded. "The most important thing is teamwork, envisioning and working towards the end goal."