If you want to make a lasting impact yet do not wish to be bound by a routine job, a career as an environmental consultant might be your cup of tea. HEIGHTS talks to Marina Roland Nawe about what's it like to be an Environmental Impact Assessment (EIA) consultant.
We are all too aware of the damage to the environment caused by major development projects and the likes of it. Every construction project that is proposed has the potential to impact the air and water quality, disruption to a community's economy and way of life, and more. These possibilities need to be measured to minimise or make up for the adverse effects through other avenues.
This is where the Environmental Impact Assessment (EIA) comes in. It is essentially a planning tool to prevent environmental issues and costly mistakes in a project due to environmental damages arising during project implementation or because of subsequent workarounds to make the project environmentally acceptable. The resulting EIA report will then be submitted for project approval.
According to the Department of Environment (DOE), EIA is required in Malaysia for activities prescribed under the Environmental Quality (Prescribed Activities) (Environmental Impact Assessment) Order 1987. There are two types of EIA reports: Preliminary EIA and Detailed EIA.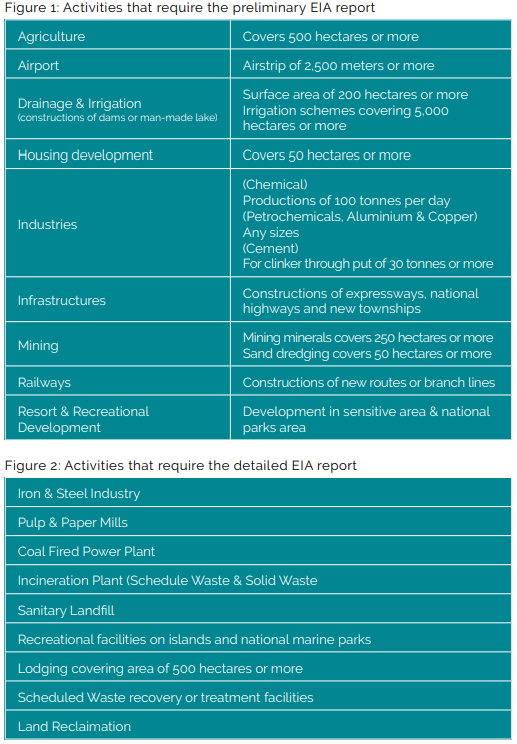 Measuring Environmental Impact
The person responsible for preparing the EIA report is none other than the EIA consultant registered with the DOE. "A lot of thought, planning and work go into an EIA report," says Marina Roland Nawe, Senior Environmental Manager in Chemsain Konsultant Sdn Bhd, Subang Jaya, and a registered EIA Consultant with DOE and Natural Resources Environment Board (NREB) Sarawak. "We need to make site visits to describe the existing environment, identify potential significant and residual impacts, as well as propose mitigation and abatement measures." "Environmental consultants provide clients with expert appraisal and advisory services on issues related to environmental management. We play a vital role in reducing the adverse effects of industrial, commercial and government initiatives on the environment," Marina emphasises. The job involves evaluating current environmental policies, management systems and processes through audits, and gauging ecological contamination within and around the client's premises. The assessment process is then followed by assisting the client in designing and implementing systems and processes to minimise current and future environmental damage. "Further, we would need to ensure that these environmental policies and procedures adhere to environmental laws and regulations." A typical timeline of EIA deliverables ranges from two to six months, depending on the type of project and scope of work.
"After having completed numerous EIAs for a variety of industries since 1997, I am still as passionate as ever to be in this field!" states the Kuching-born Marina. She earned her Biology degree in 1996 from University of MissouriColumbia, USA, started work in environmental consultancy a year later and received her Master of Environment (EIA and Planning) from Universiti Putra Malaysia (UPM) in 1999.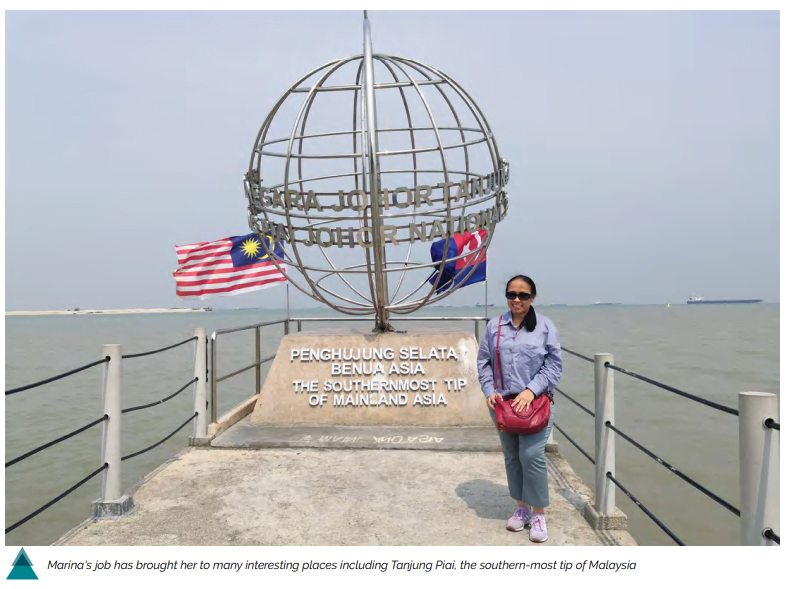 A Varied Career
A typical day for Marina would entail attending meetings with clients, consultants and government agencies as well as her EIA team members. Her office work would generally involve reviewing EIA reports prepared by her team members and attending to administrative tasks. "The job is on a project basis where my team will work with a specific company for the duration of a project. When the project concludes, we start on a new one with another company. In essence, it is an exciting and varied profession."
Marina gets to work on various projects that give her access to many technologies available in the market from water and indoor air quality testing equipment to water treatment technologies and more. "Every project is unique and interesting as I keep on discovering new working methods, business environments and technologies. Being able to harness the necessary skills and technologies to help our clients go green is what makes this job so interesting to me," she enthuses. To date, she has led her EIA team in various types of development including housing, Marina's job has brought her to many interesting places including Tanjung Piai, the southern-most tip of Malaysia CAREER 3 2 Marina accompanying then Director of DOE KL, Norlin Jaafar (current Director General of DOE) at the Taman Tugu site visit in 2016 Marina and her team briefing Norlin Jaafar during the Taman Tugu site visit in 2016 Taman Tugu, Kuala Lumpur (Source – Taman Tugu Project) resort, commercial, oil and gas projects, manufacturing, road construction, park development and ports.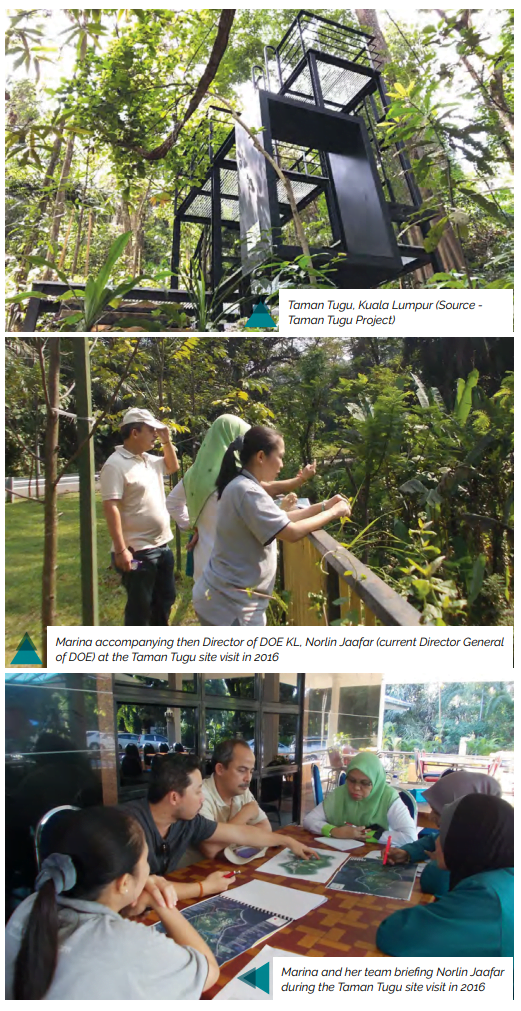 How To Be An EIA Consultant
To get started on the EIA consultancy path, one would require a bachelor's degree in science or technical academic background. "An EIA consultant must be a quick study as each project is different, and the technology keeps on evolving at a rapid pace. Being able to unlearn is also vital as it makes one more inclined to accept new ideas," Marina says. "Good technical writing skills is a major plus, and analytical thinking is compulsory in this job.
According to Marina, the environment in itself is a vast sector; an environment practitioner can find themselves in the fields of research, consultancy, construction and also government agencies. "An EIA consultant has a more specific job scope, which is mainly to prepare and submit the EIA report for the DOE's approval. Hence, one will normally work in an environmental consultancy firm," she explains. In addition to preparing the EIA, an EIA consultant can be involved in other relevant environmental work in the capacity of an Environmental Auditor or Environmental Officer. Environmental consultants can also be engaged by major manufacturing and production firms, where environmental management is a critical aspect of their daily operations.
"DOE offers various courses ranging from waste management, pollution control and such, which could add value to one's career enhancement. One could also opt to become a trainer as an alternative career path, especially for those who have gained much experience," states Marina.
Marina surmises that unlike other fields in the construction industry, the participation from both genders in environmental consultancy is quite balanced. "However, based on my observation, there seems to be more women in this field. It could because this job appeals to those with a passion for writing and analytical thinking."
As a 23-year expert in the industry, Marina is showing no signs of slowing down. "Nature and development fascinate me, and being an EIA Consultant ensures the balance between these two elements. Whenever I complete a project, the satisfaction of seeing the project develop and at the same time, being able to ensure that the environment is not compromised, is so very rewarding," she states.