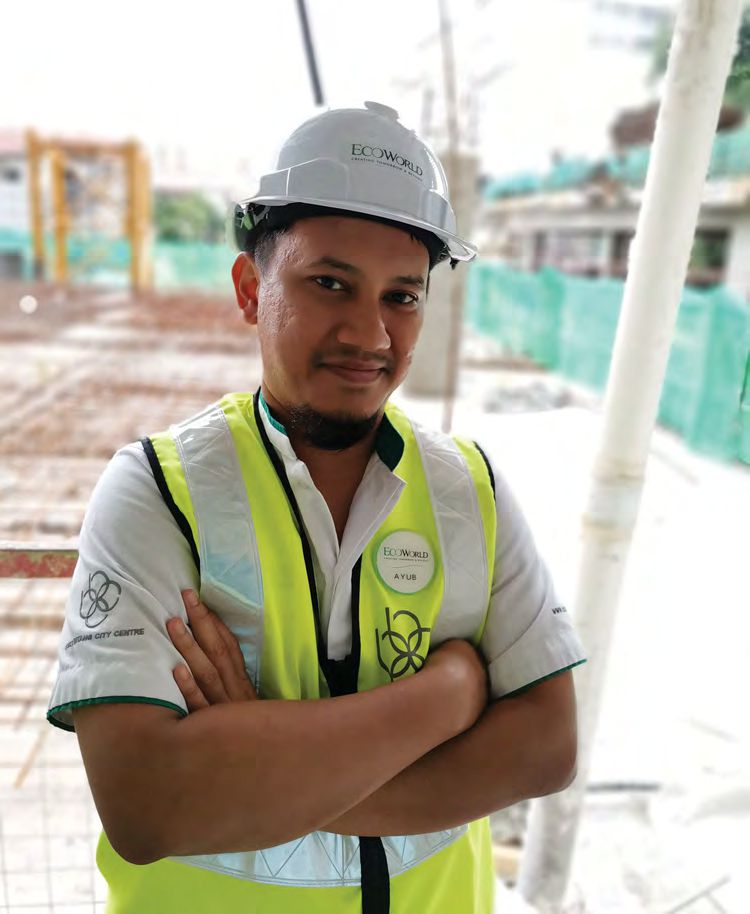 Muhammad Ayub Al Ansary bin Mohammed Osman plays a pivotal role as a Safety and Health Officer in EcoWorld Development Group Bhd, having successfully put into place safety measures for his colleagues at the Bukit Bintang City Centre construction site. With the current pandemic situation and the Recovery Movement Control Order (RMCO) in effect, his role is more vital than ever.
On a typical day, EcoWorld's Safety and Health Officer Muhammad Ayub Al-Ansary bin Mohammed Osman can be found conducting his routine inspections to identify safety and health issues that may be faced by all on-site personnel. His personable demeanour makes it easy for him to deal with employee complaints as well as taking up issues to the relevant people in management. But it wasn't always that way.
Before his first job as Safety Supervisor in a Subang Jaya-based property development group, Ayub had a stint as a maintenance staff in a factory. "The factory had a lack of safety awareness, and I felt unsafe working there." After a negative experience involving safety in the factory, he realised how important safety was especially in workspaces that include heavy machinery, potential environmental pollution and a heightened risk of accidents.
"Around that time, my secondary school friend suggested that I switch to the safety field as he said the work is interesting and impactful as it involves taking care of other people's lives. It will be a big shift for me to step up into a role that carries a mantle of responsibility," Ayub reminisced. It did not take long for him to make the switch. "I was certified as a Safety & Health Officer (SHO) in 2014, got my first SHO job within the year, and I have never been more fulfilled."
As a construction safety officer, his primary responsibility is to ensure that construction employees are abiding by safety regulations and policies. It certainly helps that Ayub is passionate about the safety of his workmates. "I get to interact with the staff from all areas of construction. As part of a bigger organization, we have to work together for the safety of all. So establishing a rapport with them helps in getting the message of safety across."
Nevertheless, he admitted that it is a challenge to manage the workers as they are all different in their backgrounds and characters, and must be handled using various approaches. "This is often very time consuming and energy-draining," he said. "However, I can overcome this challenge by keeping my cool and being determined to solve every problem I face. This is all part and parcel of my responsibility as a safety practitioner."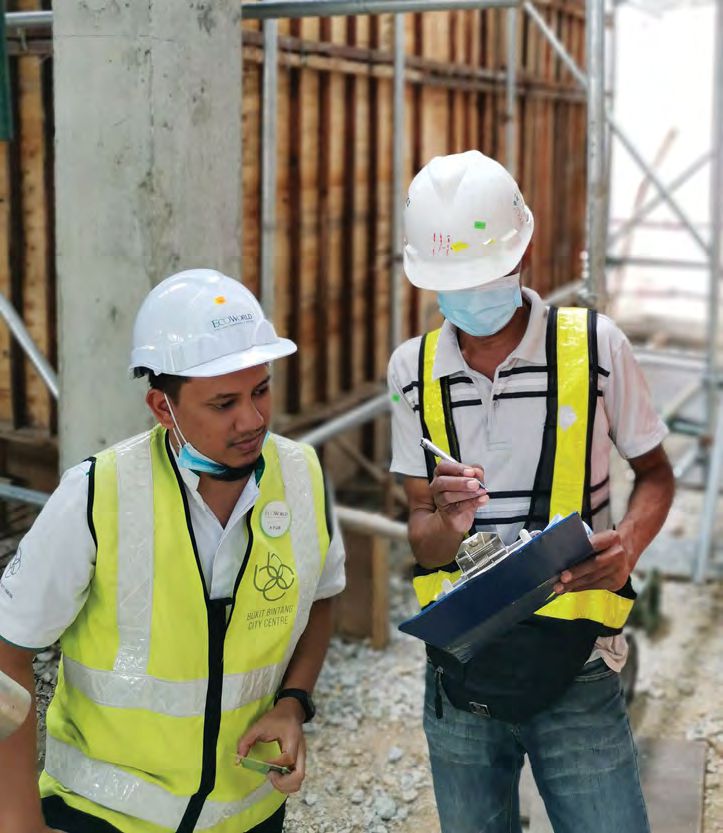 Enter Covid-19  
With the pandemic that the world is facing now and the new SOPs that must be implemented on-site, did he experience any differences in his role compared to pre-Covid-19 days?
"Obviously, the Covid-19 and uncertain economic situation it caused is unprecedented. There is a major difference in the speed of how things are implemented, the way we interact and how I go about executing my work," he said thoughtfully. "That said, there is no difference in my role as a safety and health practitioner before and during Covid-19; the only difference is the way I'm playing the role."
Ayub attested that the main challenge that he faced during the MCO, Conditional MCO (CMCO) and now RMCO periods was the implementation of the new normal on-site. "It was difficult to change the mindset of foreign workers to comply with all the new SOPs and guidelines introduced," he admitted.
"However, my team prepared for this by creating a site recommencement checklist that is based on the guidelines set by CIDB and other relevant parties. With this checklist, we were able to ensure that all the required SOPs and guidelines were implemented and adhered to prior to the recommencement of works."
Motivating employees to work safely is part of Ayub's job. But who motivates the safety practitioner? "It helps greatly to have leaders to guide me in my career development. My Senior HSE Manager, Mr Mahesan, constantly guides me through unfamiliar territory, helps me overcome obstacles and continues to support me amidst work pressure. His mentorship is what drives me in my career at EcoWorld."
Ayub stated that he is also continually inspired by the working environment and culture in this company. Most importantly, he discovered that when he was able to devote himself to his passion fully, his work satisfaction increased by leaps and bounds. "I am proud and fulfilled to be a member of Team EcoWorld. This is the only job in my career thus far that has allowed me to focus and grow in my role as a safety practitioner. In my previous jobs, I wore several hats, including performing site administrator duties. While this helped me gain knowledge in several areas, I was not able to fully focus on honing my skills as a safety practitioner."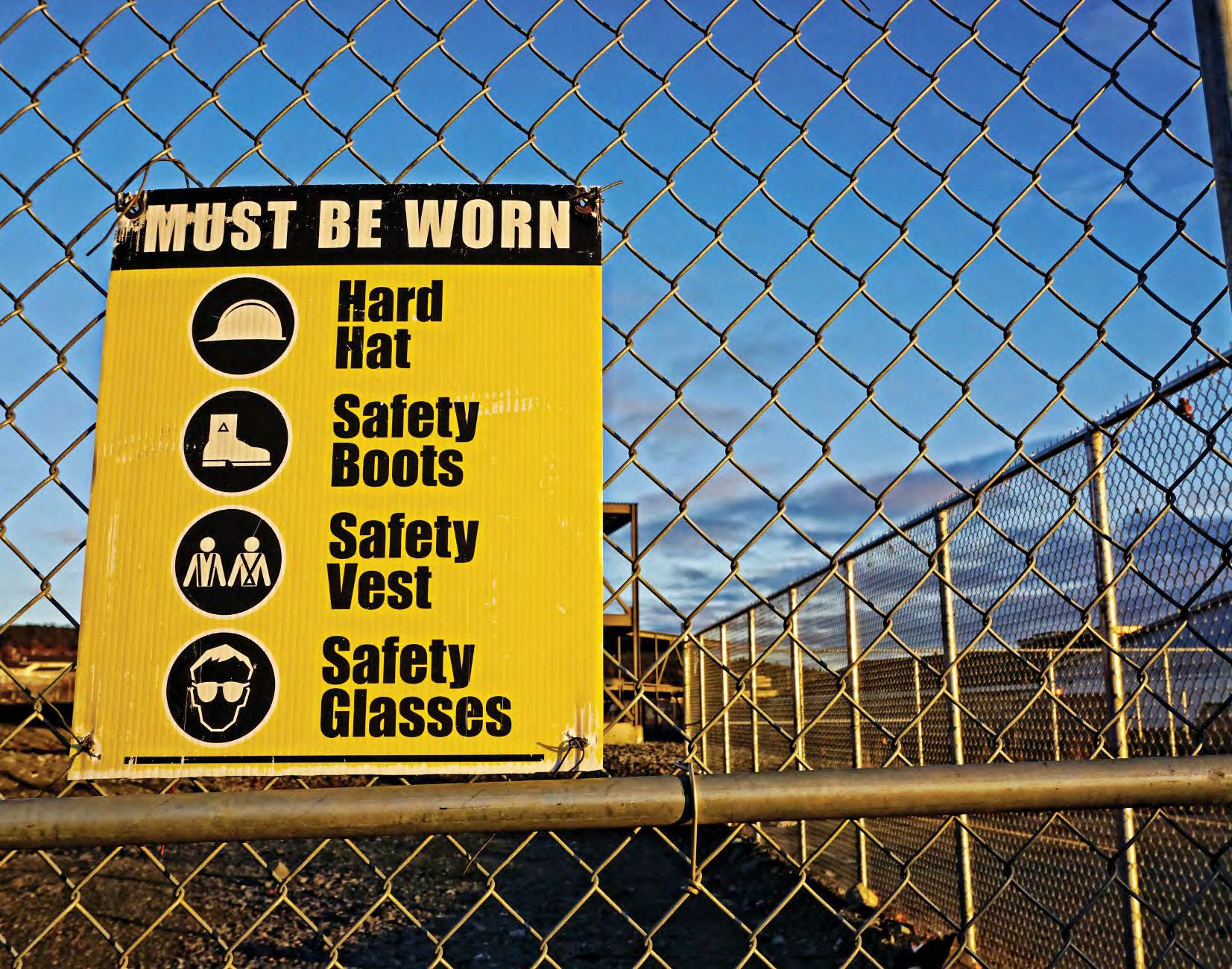 Change is Inevitable
Covid-19 or no, change is constant, especially when it comes to the construction industry. "As safety practitioners, we should make an effort to educate ourselves continuously. New technology pops up every day in our field. Therefore, it is important to keep abreast of the changes by attending courses, seminars, training and other necessary forms of continuous education," he advised. "Social media is also a great tool to help keep ourselves updated with all the information shared online by organisations such as CIDB and The National Institute for Occupational Safety and Health (NIOSH)."
For those keen on embarking on a career in the Safety and Health field, Ayub advised that they would need to prepare themselves physically and mentally as this specialisation poses significant challenges to both the mind and the body. "Knowledge and creativity hold great importance to thriving in this field, but physical fitness and perseverance are also important as one will be required to walk the site, perform audits, and conduct inspections in the middle of the day under the scorching sun. A never-give-up attitude will go a long way in helping you excel in this field," he counselled.
Occupational safety and health practitioners are relatively flexible in the sense that they may find job opportunities in a wide range of environments, such as construction, manufacturing, petrochemical, mining and other offices. So long as there is a risk to the safety and health of staff, tenants or visitors to the workplace, one's expertise in this area will be required.
After all, not only do workplace mishaps cost employers money through fines and compensation, they are also damaging to the company's reputation and cause poor staff morale.
"Career paths for construction safety and health officers vary from organisation to organisation. Some basic career advancements available would be positions like Safety Manager, Safety Coordinator and Safety Engineer," said Ayub.
"To succeed in this field, a potential candidate should be proactive, hardworking, independent and adaptable. These are the basic qualities I would look for. Prior experience is a bonus, but without the right attitude, it would be difficult for them to be integrated into the organization, foster good working relationships and be effective in their work."