The NCP 2030 aims to transform the nation's construction sector towards the digitalisation era.
Launched by the Prime Minister at the opening ceremony of ICW 2021 and ASEAN Super 8, the National Construction Policy 2030 (NCP 2030) aims to transform the whole construction sector towards the digitalisation era. Themed 'Digitalising the Construction Sector', the NCP 2030 by the Ministry of Works will drive the country's construction industry towards international recognition and competitiveness. The Policy serves as a key reference and guide for both the public and private construction sectors in achieving inclusive and sustainable national development by 2030.
A Catalyst for Infrastructure Development
The NCP 2030, which is based on the Shared Prosperity Vision 2030 (WKB 2030), envisions a developed and sustainable nation with an inclusive economic distribution. In essence, WKB 2030 seeks to accomplish three primary goals: reorganise the economy at all levels of society, reduce inequality, and build the nation. The NCP 2030 will act as a catalyst for infrastructure development as part of the drive to restructure the economy and alleviate income and wealth inequalities. One of the goals highlighted in this strategy is the empowerment of Bumiputera entrepreneurs and Small and Medium Enterprises (SMEs) to compete with other significant players in the sector.
Furthermore, the Ministry of Works (MoW) aims to empower human resource management through reskilling and upskilling efforts to produce a highly-skilled workforce in domestic and worldwide markets. Through local projects that have won construction service projects abroad, this endeavour will also help professionalisme the overseas workers' skills. To safeguard the quality and productivity of the construction sector, the MoW scrutinizes the hiring of experienced and accredited foreign workers before entering the country's labor market for local projects.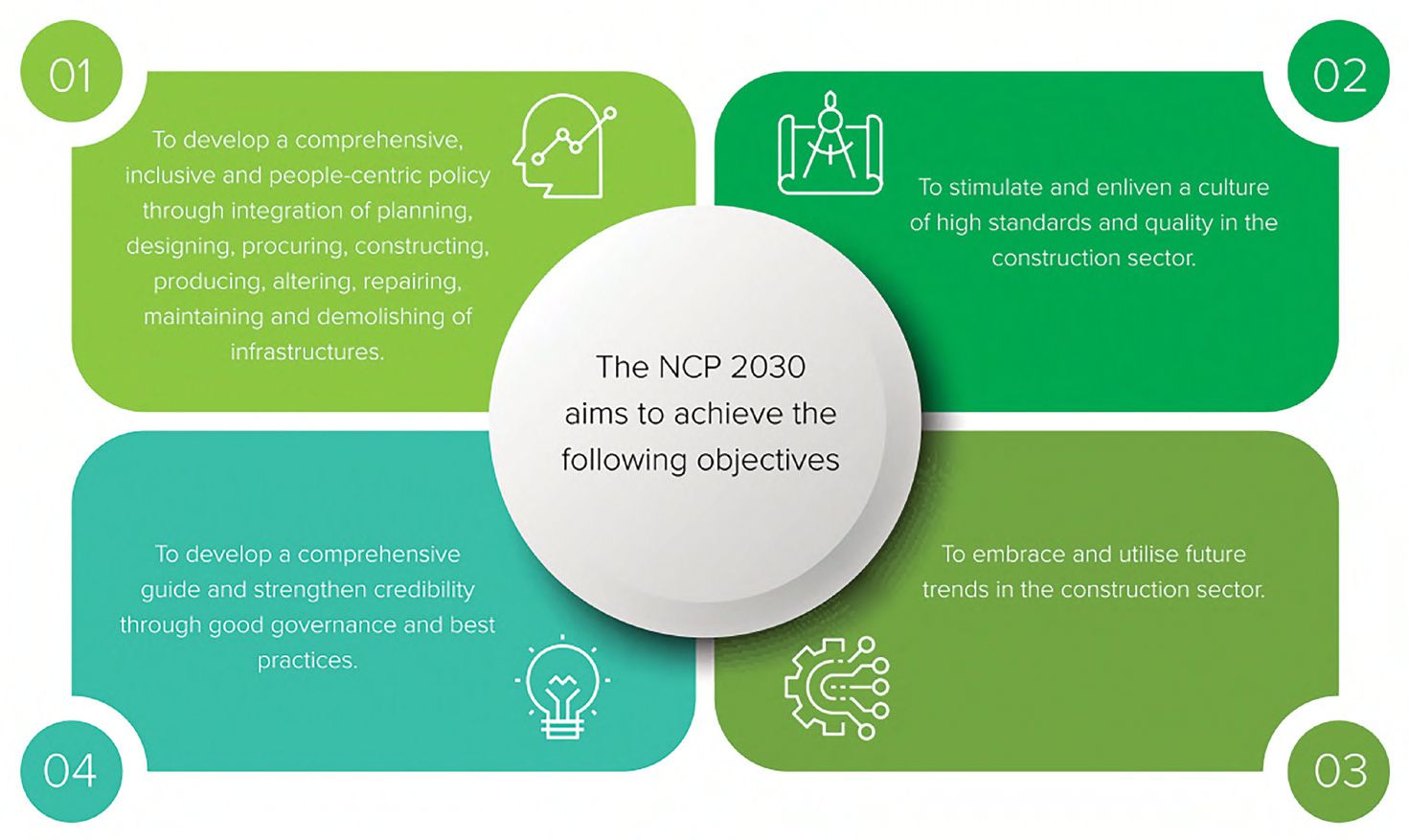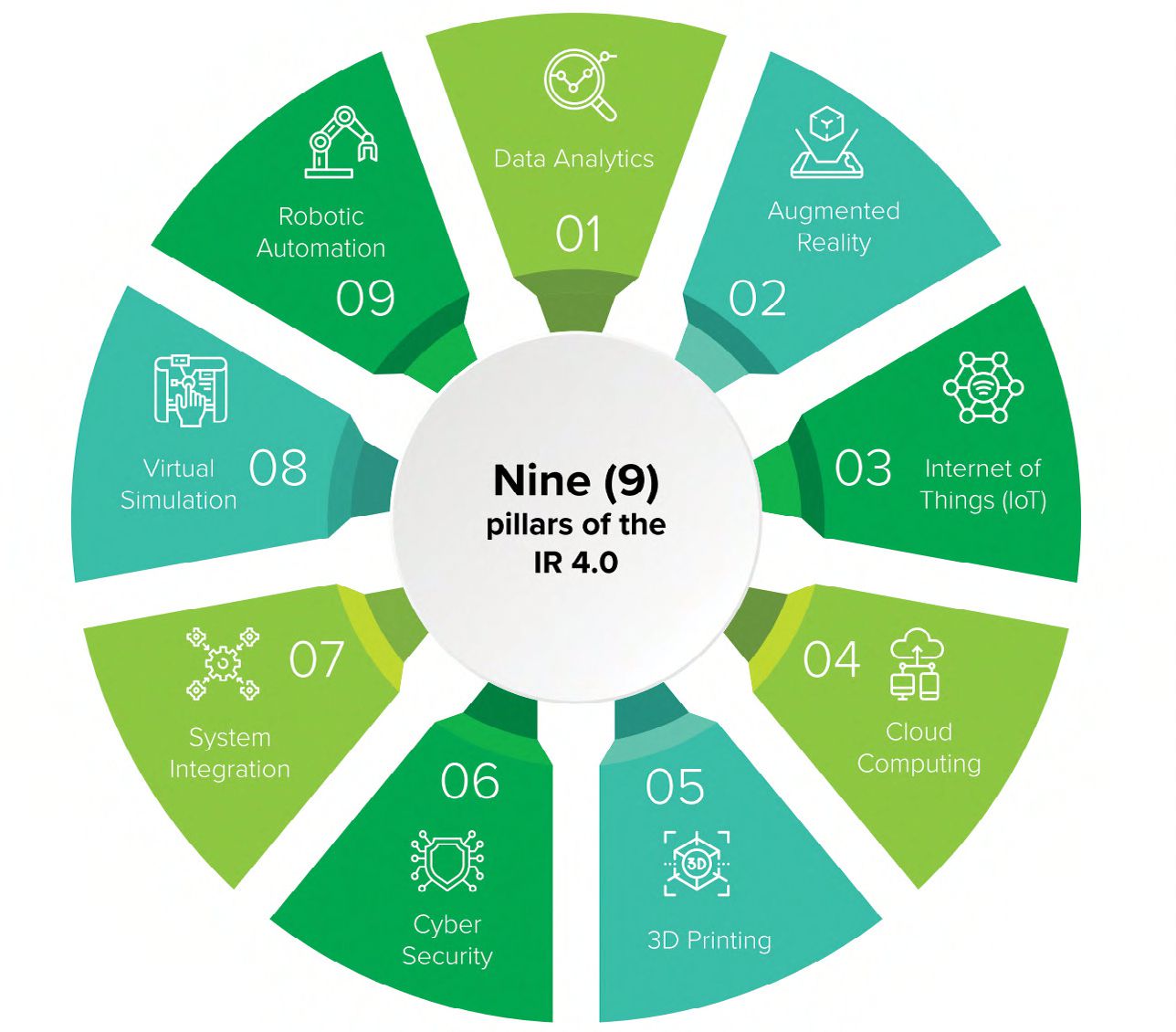 Supporting the 9 Pillars of the IR 4.0
The NCP 2030 aims to embrace innovation based on the 9 Pillars of IR 4.0 depicted in Figure 2. It will guide stake holders in adopting emerging technologies, best practices, as well as inclusive and sustainable plans.
The nine pillars are digital technology applications that must be incorporated into each workflow and process of the construction sector for it to be more sustainable and competitive.
The digitalization by IR 4.0 has paved the way for a modern world landscape to overcome its reliance on human resources and prepare for the future of work. Digitalization impacts the efficiency and effectiveness of operations because it allows for the transformation of analogue information into digital information that is easier to generate, analyze, store, and administer in all areas. This allows digital data to be communicated swiftly, allowing stakeholders to make more informed decisions. The use of technology and automation can help the construction industry become more competitive globally by increasing productivity and quality.
Thus, stakeholders and industry players must be conscious about strengthening the construction sector in line with current digital economic needs to achieve the NCP 2030 objectives.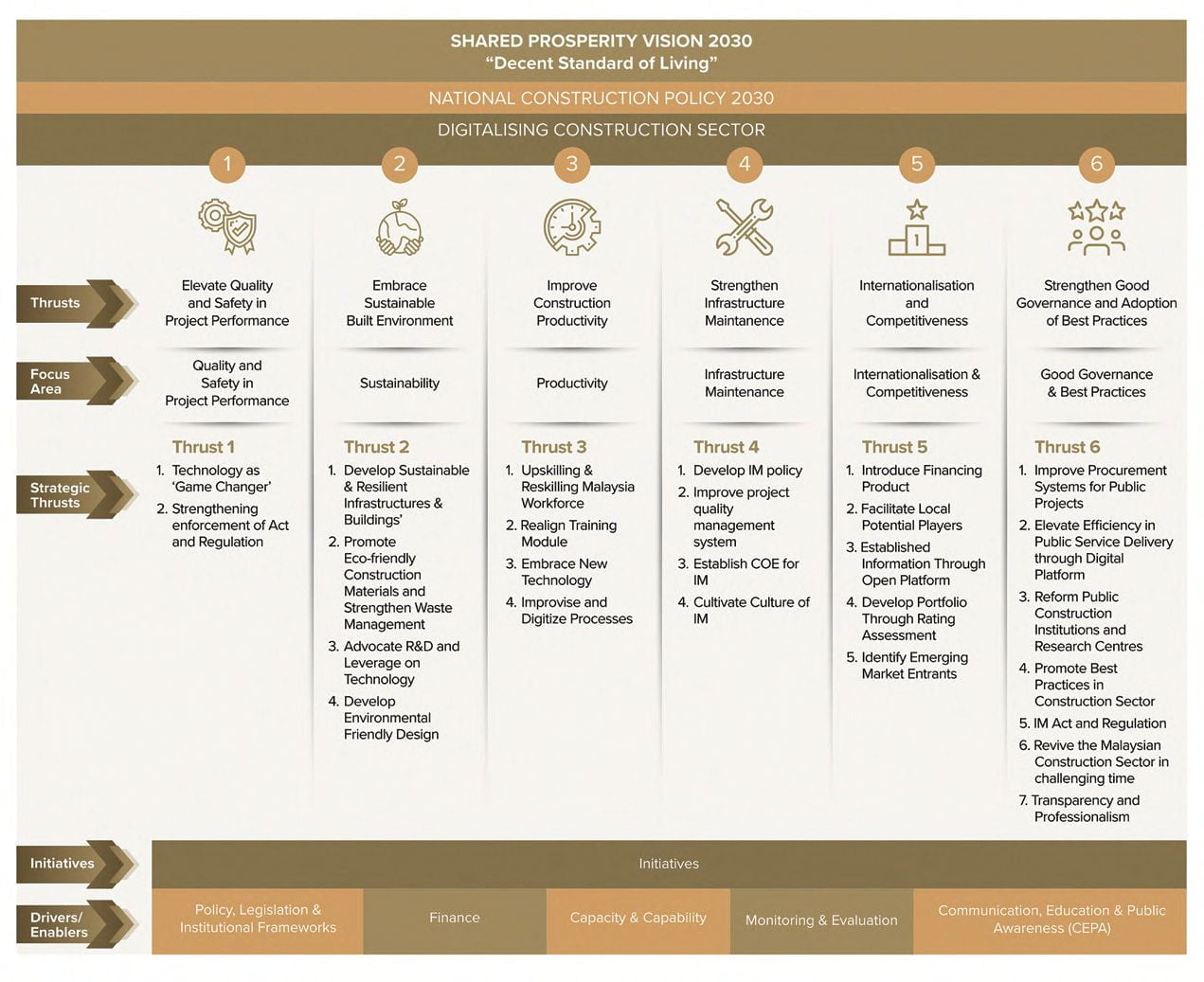 The NCP 2030 Framework
The NCP 2030 is developed to ensure local construction trends evolve with the requirements of IR4.0 and international trends. This will help ensure continued growth and competitiveness regionally and globally.
Through specific policies and initiatives, the NCP framework promotes technology and innovation in the construction sector, such as BIM, IBS, the "Construction Information for Your Convenience" (CONVINCE) portal, and many more
These measures will position Malaysia's construction industry to become more relevant, competitive, and viable in the IR4.0 era. Expanding markets creates new market opportunities, particularly in the infrastructure maintenance segment. In the next ten years, this segment is predicted to encourage the domestic construction sector to be Figure 3: The NCP 2030 Framework more active and generate more job opportunities while also establishing itself as a new economic activity for the country.
The 6 Thrusts of NCP 2030 The NCP 2030
Framework lists the six thrusts and associated strategies for achieving the goals of the NCP 2030. (Figure 3).
Thrust 1: Strengthen Quality and Safety in Project Performance Across the Construction Sector
This thrust seeks to provide a single, synergistic total project performance SPECIAL FEATURE 1 4 system to increase quality and safety. It aspires to foster efficiency among industry players to prioritise safety management and quality standards as a prerequisite for being relevant and competitive.
Thrust 2: Embrace Sustainable Built Environment
Gas emissions, inefficient waste management, and building sector implementation have a significant environmental impact. Construction waste is a significant problem in the construction sector. To address these issues, MoW focuses on supporting sustainable development across the life cycle of the building sector.
In the face of global change, the construction industry must align its strategy with the SDGs. In all aspects of national construction development, the construction sector can assist the country in meeting its international sustainability commitments.
Thrust 3: Improve Construction Productivity
This push intends to change construction training institutions to develop a supply of knowledgeable and highly competent construction workers. To achieve this specific goal, the MoW plans to alter the image of the construction sector from the 4Ds of Asian neologism: "Dirty", "Dangerous", "Difficult", and "Demeaning" to 1D "Dignified" through technology and skill training.
As a result, the reliance on unskilled foreign workers will be reduced indirectly, while domestic labour supply would be offset, and construction workers will receive higher wages.
Thrust 4: Strengthen Infrastructure Maintenance
The MoW is establishing a holistic chain of construction processes to assist in designing and managing a complete construction cycle in Malaysia, particularly in the long-term management of the built infrastructure that will save costs. This will indirectly increase and expand the value of the infrastructure.
More importantly, the development of the infrastructure maintenance sector will provide an economic boost by creating new opportunities for sector players through infrastructure maintenance capacity building. This comprises training for infrastructure maintenance contracting businesses, employee training, and facility management system certification.
Thrust 5: Strengthening Internationalisation and Competitiveness
There is a growing need for Malaysian companies to maintain dominance in the local market and explore opportunities in global markets. Globalisation and free trade has enabled Malaysian construction companies to compete in a bigger market while remaining competitive domestically.
Local sector operators should be better equipped to meet international standards to increase their local and global competitiveness. The strategies include introducing implementable financing products for international construction projects, establishing accurate, real-time and complete international construction sector information through an integrated and open platform, and encouraging Malaysian construction enterprises to participate in international building projects.
Thrust 6: Strengthening Good Governance and Adoption of Best Practices
Good governance is crucial to delivering the best services to society. Thus, the MoW is committed to ensuring that the construction sector upholds sound governance principles while optimising all resources, including environmental conservation.
Inefficient construction project management has been linked to poor construction quality, delays, cost overruns, inefficiency, and significant environmental damage. Transparency in public procurement is another serious issue in this area.
So the Ministry, through its agencies, tries to improve construction project management through excellent governance and best practices to ensure public and stakeholder satisfaction.
Targeted Outcomes
Under the NCP 2030, the construction sector is targeted to attain five following outcomes in the next 10 years:
Technology Adaption and Adoption in the Malaysian Construction Sector
By 2030, at least half of the industry's cycle will achieve digitalisation, including the procurement and monitoring phases. Building Information Modelling (BIM) is expected to automate these two phases fully. Using BIM will improve the sector's environment by facilitating communications among project team members, including architects, engineers, surveyors, and semiskilled and unskilled labourers. This SPECIAL FEATURE 1 5 Figure 4: Sustainable Development Goals by United Nations will help with project management and monitoring.
Technology adoption helps reduce project costs while increasing project quality and value. It will also enhance our nation's productivity and reduce reliance on unskilled imported labour while balancing the domestic labour supply. This will enable the economy to transition from a labour-intensive to a knowledge-based economy, leading to a "Dignified" 1D construction sector.
The Construction Industry Transformation Program (CITP) 2016- 2020 established QLASSIC and SHASSIC for quality and safety assessments to improve public and private infrastructure projects. Material standards are one of the variables considered to build better and safer infrastructure.
Using BIM technology in infrastructure projects and QLASSIC and SHASSIC evaluation tools allows for continuous quality and safety monitoring. This will improve project management during and after development. Both technology solutions will help the industry boost the value and quality of the said projects and optimise their costs from the start
Steering Towards the Sustainable Development Goals (SDGs) 2030
Through the NCP 2030 strategic thrusts, the Malaysian construction sector is anticipated to align with the SDGs goals depicted below in Figure 4.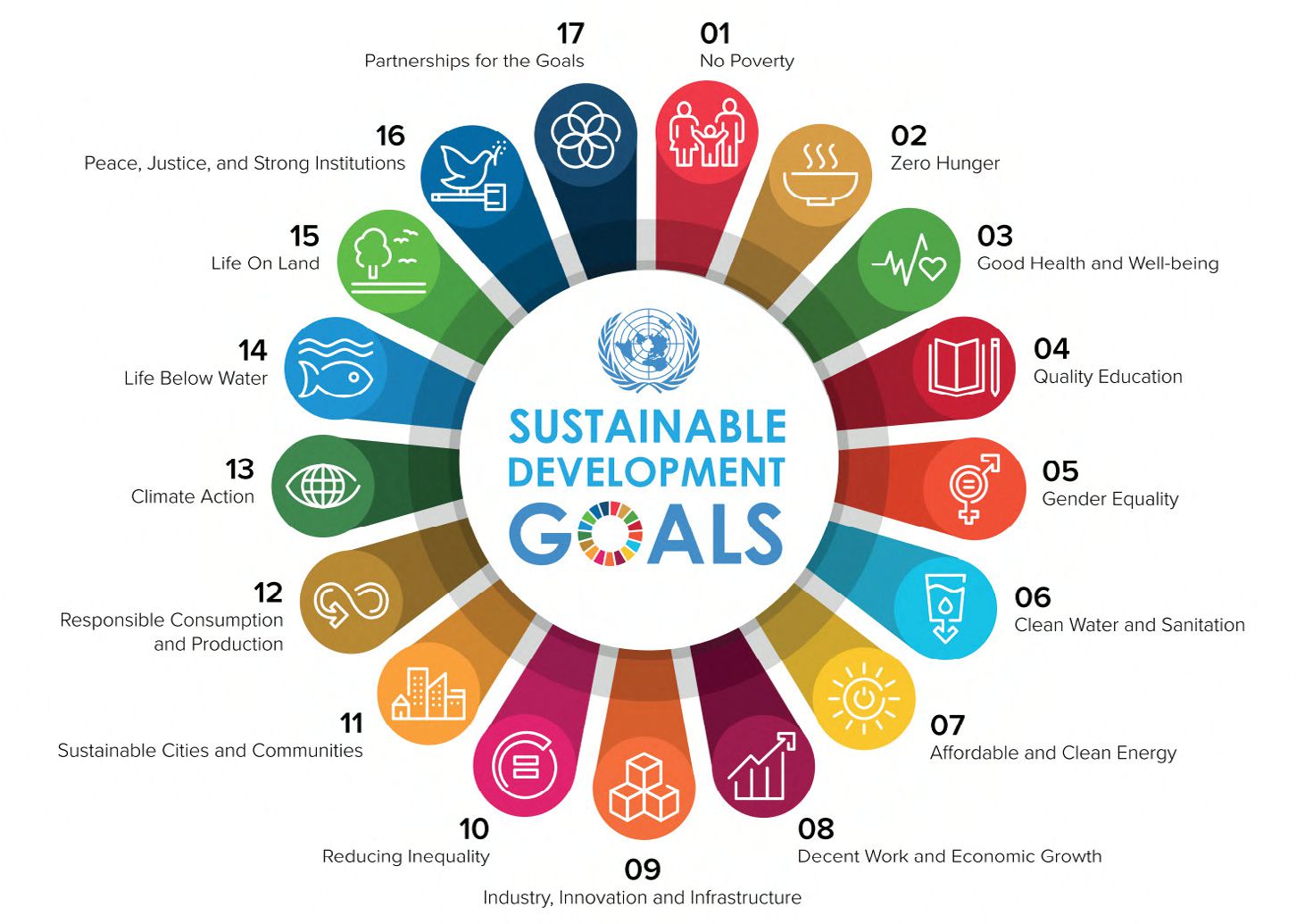 Through the NCP 2030 strategic thrusts, the Malaysian construction sector is anticipated to align with the SDGs goals.
These goals address the present global concerns we face, such as poverty, inequality, climate change, environmental degradation, peace, and justice. Because all 17 goals are interconnected, the NCP2030 is intended to address the SDGs' guiding principle of "leaving no one behind." The Malaysian construction sector will emphasise holistic development to create better and more sustainable development for all.
3. Enriching Shared Prosperity Vision (WKB) 2030
The NCP 2030 aims to achieve all of the WKB 2030 objectives, including development for everyone, resolving wealth and income inequities, and constructing a cohesive, wealthy, and dignified nation.
The NCP 2030 is expected to support the WKB 2030 directed outcomes in terms of:
Strengthening the ecosystem of the construction sector;
Turning infrastructure maintenance into a new economic activity;3.
Reinforcing human capital with a skilled work force in the construction sector through reskilling and upskilling at public and private universities/colleges/ training centres
Elevating the labour market of the construction sector by upgrading its image, reducing foreign workforce dependency, promoting equality of gender and inclusion of disability groups5.
Establishing and improving more quality and inclusive infrastructure through proper and structured states development for all levels of the society to increase the index of social wellbeing; and;
Transforming the public service delivery in the construction sector and its related services that will encourage good governance and best practices in the construction sector in general.
4. Infrastructure Maintenance as a New Focus for Economic Activities
Compared to our neighbour, Singapore, infrastructure maintenance in Malaysia is neither aggressively promoted nor progressing as rapidly. As a result, the NCP 2030 is expected to be aggressive in infrastructure maintenance initiatives, whether public or private. Infrastructure maintenance is estimated to provide at least 30% to 50% of overall infrastructure development. This contribution rate is based on the 100% use of BIM technology and evaluation tools such as QLASSIC and SHASSIC for at least 30% of new projects in Malaysia.
5. Stabilising the Balance of Payment
Since the construction sector plays a vital role in influencing the balance of payment (BoP), the NCP 2030 is expected to stabilise Malaysia's Balance of Payment through the following mechanisms:
By boosting the local workforce through reskilling or upskilling and technology adoption, significant improvements are predicted in low-skilled labourers' cash outflow to their home countries. Cash outflows should decrease as reliance on low-skilled foreign labour decreases.
To reduce reliance on imported items and materials by having local manufacturers produce and supply products of greater quality at lower prices using the latest technology. This will promote the use of local products in the construction sector.
Local players must actively participate in local market shares, especially megaprojects. This creates a harmonious economy and stronger market shares, which will help in nation-building and economic growth. The formation of the government equity guarantee and other financial aid mechanisms and foreign collaboration funds also aims to boost the Malaysian construction sector's competitiveness and capabilities in the global market, improving the balance of payments.
Local participants must adapt to and keep up with new technologies. When participating in projects, the contract should clearly state the parameters of knowledge and technology transfer.
Forging Strategic Collaborations
As one of the national policies that specializes in the construction sector, NCP 2030 will be supported by other agencies on construction and construction-related services to ensure that its objectives are achieved. The support will be realized through strategic collaborations between agencies, such as technical working groups, inter-agency planning groups and other endeavours.