According to Global Information Inc., the construction industry in Japan is expected to record marginal growth of 0.5% in 2019 due to slow economic growth and dwindling investor confidence. However, the momentum is expected to pick up steadily later to record an annual average growth of 1.3% within 2020-2023. Over the forecast period (2019-2023), the industry's growth will be driven by the government's efforts to enhance transport, commercial and industrial infrastructure construction.
Opportunities in the Residential Construction Industry
The construction industry is one of the key sectors in Japan that contributes nearly 20% of the country's gross national product (GNP), and approximately about 10% of the workforce. Data from a major research company reveals that the construction industry in Japan is consequently expected to rise from a value of USD 594.1 billion in 2018 to USD 628.2 billion by 2023.
Residential construction represents the largest segment in Japan's construction industry, accounting for approximately 30% of the industry's total value in 2018.
Daiwa House Industry Co., Ltd (Daiwa) is Japan's largest housebuilder based in Osaka. The Group has about 387 subsidiaries involved in various sectors of the industry as well as other businesses.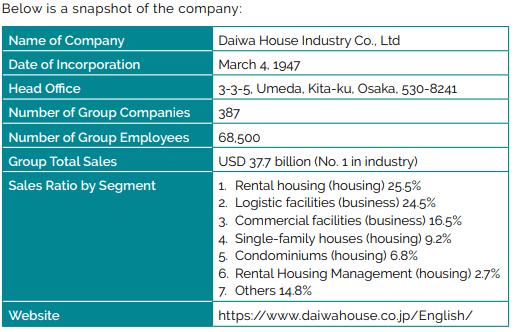 Daiwa's procurement department is responsible for the arrangement and supply of materials to their building site and factories throughout their intra-company departments. The total amount handled by the procurement department in 2018 was approximately USD 4 billion. Wood-related products are in demand and remain as Malaysia's top 5 exports into the market. Daiwa is seriously looking to import interior finishing materials, building materials and furniture from Malaysia. Thus, Malaysian suppliers should explore such business opportunities with the company.
Conclusion
The residential construction market is expected to account for 29% of the industry's total value in 2023. The market output is expected to grow marginally over the forecast period, due to low private and public sector investments in the residential sector.
Infrastructure construction accounted for 27.8% of the industry's total output in 2018, followed by energy and utility construction at 17.4%, commercial construction at 12.8%, industrial construction at 7.6% and institutional construction at 4.3%.
Malaysian businesses can leverage on the free trade agreements (FTAs) as well as upcoming events such as World Expo 2025 in Osaka. These events can serve as an excellent platform to explore and expand exports of building materials and furniture as Japan continues to upgrade its residential construction industry.