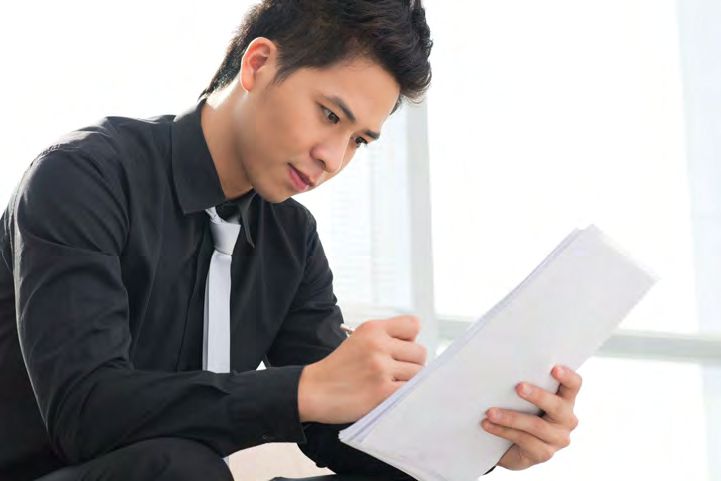 A look into the current and long-term considerations posed by the disruptions and delay in construction projects during the Covid-19 outbreak.
The MCO mandated a nationwide closure of businesses across all sectors, including the construction sector unless construction works fell within the exception of essential services such as in water, electricity, and energy, critical works or posed risks to safety and security. In the third phase of the MCO Period, the Ministry of International Trade and Industry (MITI) allowed certain sectors in the construction industry such as projects with physical progress of ninety percent (90%) and above, tunnelling works, and maintenance works amongst others to resume operations during the MCO Period, subject to MITI approval.
Disruptions and delay in construction projects are inevitable from restricted site access, labour shortages and interruptions in the supply chain of materials. This article raises immediate, mid-term and long-term considerations.
Immediate considerations: Review contract clauses
It is crucial and timely for a thorough assessment of one's contract to ascertain rights in view of contracting parties' positions at the crossroads of seeking a protection of entitlements in terms of time and money or a complete release of obligations. The relevant clauses to identify would be on extensions of time, force majeure, claims such as loss and expense, price fluctuations, variations, acceleration, amongst others and a snapshot of relevant standard form contract clauses are set out below :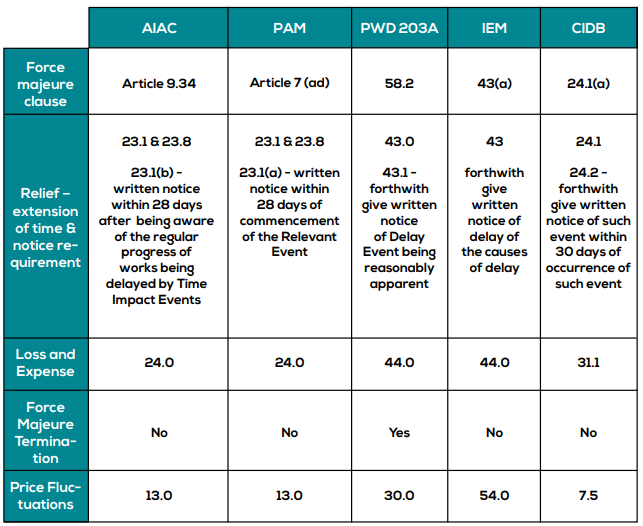 Assess obligations and consider options
Assess, plan and sort out a revised schedule of works due to the disruptions and delay on construction progress.
The relevant ministries and regulatory authorities such as MITI, Ministry of Works (MOW) and CIDB issued standard operating procedures (SOP) and best practices guidelines for companies to adhere to in preventing the spread of Covid-19. These include having only fifty percent (50%) of workers physically present at the project location and a controlled movement of workers to and from the construction site and their accommodations through the provision of designated transportation vehicle by the employers. Employers are also to provide workers with suitable personal protective equipment such as masks, have hand sanitisers placed at common areas and practice social distancing in carrying out works.
These SOPs are obligations to be followed through strictly as noncompliance gives rise to liability such as a criminal offence under the Prevention and Control of Infectious Diseases (Measures Within the Local Area of Infection) (No. 3) 2020 Regulations. Liaise with vendors, sellers and suppliers on targeted delivery dates to ensure that the project is scheduled to get back on track in the least amount of time possible to minimise further incurrence of time and money. It may also be practical to conduct a joint site investigation to record the state of construction after the MCO hiatus with the project being left on its own for prolonged periods of time.
Assess possible claims to be submitted and comply with condition precedents such as notice requirements
Consider possible claims such as extensions of time, variations, accelerations, loss and expense, delay damages and price fluctuations.
This again will largely depend on the entitlements set out in the contract. Look to surrounding provisions and force majeure provisions for situations of unforeseeable events beyond the control of the contracting parties which may be likely applicable. An example would be the PWD 203A form of contracts where the Government in the MOW's FAQ states that it would not be liable for any loss and expense arising from the implementation of the MCO.
It is then important to determine the conditions to fulfil once relevant provisions are identified. There may be requirements for written notice, particulars of delay, timelines, supporting documents, and a duty to mitigate before claims are allowed. For example, in relation to extensions of time, PAM contracts provide for notice to be given within twenty-eight (28) days of the event while PWD 203A contracts provide for notice to be given when delay is reasonably apparent.
There is no one-size-fits-all solution as legal consequences on any contractual relationship varies depending on the nature of the contract, the type of obligations and the circumstances in which the obligations are to be performed.
Consider the applicability of legal doctrines of frustration and termination.
Termination should be exercised with caution as there are heavy consequences in the event of a wrongful termination. Review the contract to determine if there are clauses which allow termination resulting from the existing circumstances. An example would be the PWD 203A contract where parties may mutually agree that the contract is terminated by a force majeure event. However, clauses of this nature are rare and this needs to be assessed on a contract-to-contract basis.
Frustration is a common law doctrine to deal with the occurrence of an unforeseeable frustrating event where it is impossible to fulfil contractual obligations or obligations turn into something so radically different from the intention of parties. The consequence that follows a successful reliance on frustration is that the contract becomes void and parties are discharged from further performance of the contract. Any benefit received by either side due to part performance will have to be returned to ensure there is no unjust enrichment. All existing claims or rights before the frustration event can be pursued.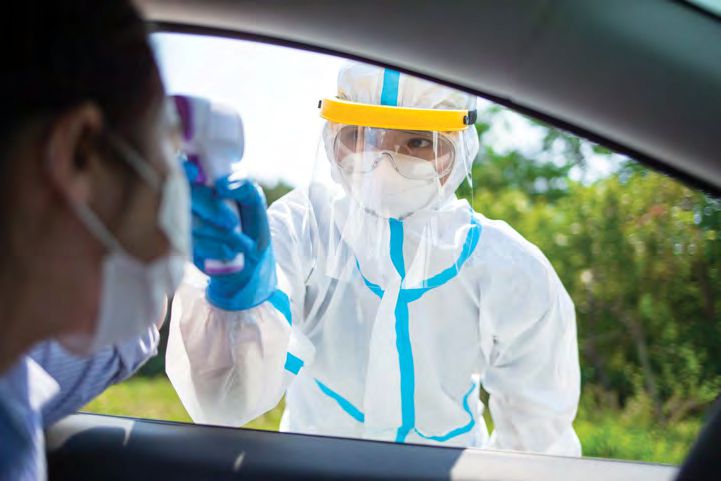 Mid-term considerations: Have strong contract administration
As approval is given to the construction industry to commence works in stages, it is imperative for a company to have strong contract administration and be clear on its goals. This is evident through the documents requested by MITI for an application to resume operations throughout the MCO such as the project implementation schedule for the next three (3) months, the nature and scope of work to be undertaken, and a list of the manpower and equipment required to carry out the work plan.
This is also evident through the guidelines of MITI / MOW and other relevant governmental authorities. Compliance with MITI's SOP and the applicable regulations is emphasised or the approval to operate will be revoked.
Submit claims and assess securities
Continue to revise work programmes and keep all relevant parties updated as the situation develops and remember to use best endeavours to reduce delay (e.g. PAM Clause 23.6). Extend all necessary insurance coverage and performance bonds and security (if applicable) and continue to comply with any recurring conditions attached to making claims.
If it is found upon assessment of the claims that none of the contractual provisions provide monetary relief, quantum meruit may be an alternative for services or work done that is not stipulated in the contract. This is a quasi-contractual claim to seek compensation for an amount that the work is worth, representing a reasonable sum of work done, usually determined by fair market rates or fair valuation.
Renegotiate Contract Terms
At all times, contracting parties should be flexible in the current climate and consider renegotiating current obligations and entitlements. For example, developers may consider negotiating terms with the individual house buyer to waive or limit compensation and other forms of arrangements to ease the heavy burden on the developer bearing the risks of delay and corresponding compensation.
Long term considerations: Future contract terms
The contract review exercise and problems encountered may reveal issues in contracts that were not properly addressed at the time of signing or as a result of adopting standard terms. This exposes issues to be mindful of when negotiating and drafting future contracts to ensure watertight clauses.
Restructuring for survival of construction companies
Affected companies may also consider rescue mechanisms to prevent insolvency and restructuring exercise to ensure its business continuity vide the Companies Act 2016.
Such rescue mechanisms act as temporary shelters while a restructuring of debt obligations takes place via (i) corporate voluntary arrangement; (ii) judicial management; or (iii) scheme of arrangement processes.
These mechanisms prevent legal proceedings or actions to be taken against a financially distressed company through the imposition of a moratorium or a restraining order, which can be in place for different durations depending on the mechanism.
Conclusion
In the current climate, it is important to take the time to conduct a full risk assessment on the impact on business activities and evaluate all options and remedies. It is hoped that this article would prove useful in guiding relevant considerations and decisions to be made.